Men's CAA Basketball
Tough Towson Looks Like A Tourney Contender
Tough Towson Looks Like A Tourney Contender
Gritty, efficient Towson has been one of the highlights of the CAA men's basketball season.
Jan 13, 2022
by Kyle Kensing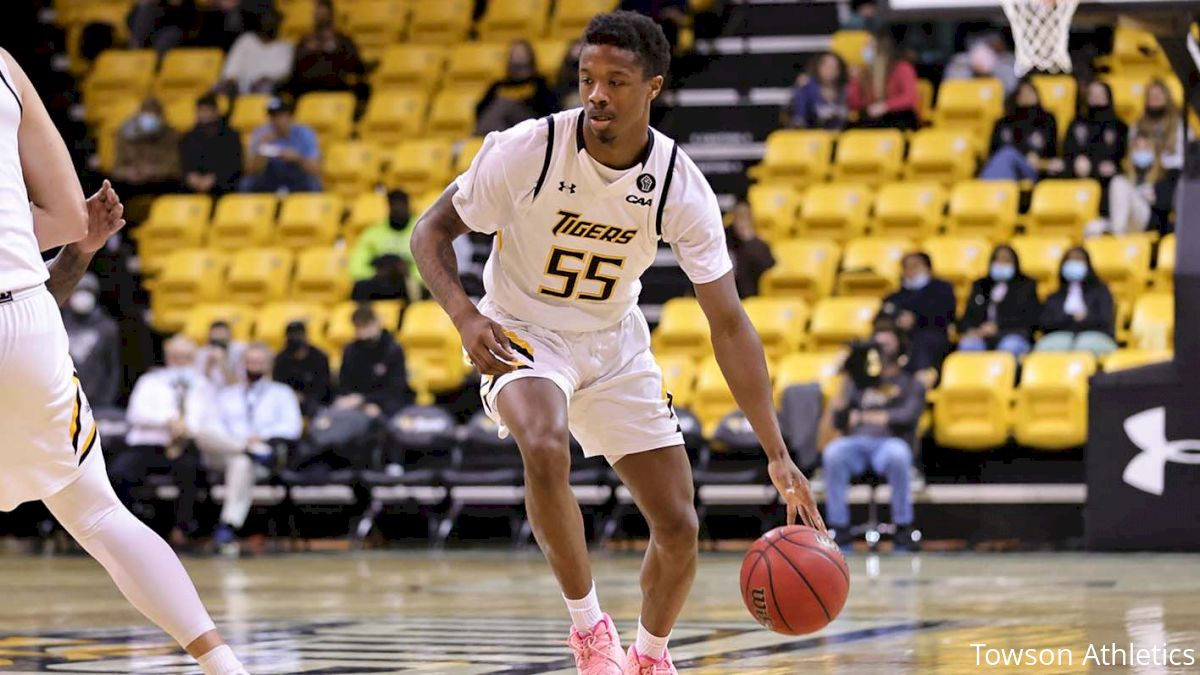 Pat Skerry noted while previewing the 2021-22 season that he was giving fewer such interviews than in past seasons.
The frequency of media requests in an offseason typically correlates directly with expectations—talking with UCLA coach Mick Cronin, for example, revealed a busy appearance schedule coming off the Bruins' Final Four run.
And, indeed, the preseason Colonial Athletic Association poll tabbed Towson at No. 8 at 93 points, well behind seventh place's 148 points.
Good thing for the Tigers those points don't translate to the scoreboard when the ball tips.
Coming off its first conference victory, a 70-67 win over Northeastern, Towson became just the second CAA team with 10 wins on the season. The Tigers rate No. 82 in the NCAA's NET rankings.
"I wish we had a couple games back against good teams," Skerry said. "We had some good shots and just didn't make them."
Three of those losses were by single digits, and the other two against top 35-ranked opponents Ohio State and San Francisco by 11 and 10 points. While the Tigers might like a redo on the losses, it's all part of preparing for a push at the conference championship.
Perhaps more importantly, a challenging non-conference season marks a significant and welcomed departure from a year ago. The lack of faith outsiders placed in Towson ahead of 2021-22 can be at least partially attributed to the difficulties it faced playing amid the pandemic.
The Tigers played just 18 games in 2020-21 and had both their CAA schedule bookended with COVID postponements and cancellations.
"More than anything, if we're able to have normalcy we're going to be competitive and right in the mix," Skerry said. "If we have to go through what we went through a year ago, where we have three or four positives, it's hard to develop good habits that way."
Lack of a proper offseason contributes to a team's habit-building, too.
Towson was not unique a year ago in its inability to form cohesion from workouts leading up to tipoff, but there's no doubt that this season's Tigers benefited greatly from having a more real offseason experience to integrate newcomers.
Nicolas Timberlake, a returning veteran who rejoined the mix late due to offseason surgery, described the dynamics as almost immediately positive.
"The minute I walked into the gym, the minute we started playing, I thought 'wow,'" he said. "It took maybe a week or two, but after that, you would have thought we'd played together for years."
That's shown up throughout the first half of Towson's season through its fluid and efficient offensive style. The Tigers rank 56th nationally in adjusted offensive efficiency per KenPom.com advanced metrics; Hofstra is the CAA's only other team ranked in the top 100 at No. 57.
Six Tigers average between 8.2 and 14.1 points per game.
Cam Holden, one of the newcomers, is setting the scoring pace. A transfer from UT-Martin, Holden earned All-Ohio Valley Conference recognition a season ago.
He is headed toward All-CAA honors at his current pace, averaging nearly a double-double with 9.2 rebounds per game.
Holden's early-season exploits include a 19-rebound performance against Penn, in which he also came just two assists shy of a triple-double. He also came three points away from a triple-double with 11 rebounds and 10 assists in a 73-58 rout of Kent State.
Such ability and willingness to facilitate from a leading scorer speaks to the seamless ball movement Timberlake touted, and illustrates Holden's uncanny versatility.
"You put a big guy on him, he's going to blow by him," Timberlake said. "Put a smaller guy on him, he's going to bully him down low, and he gets every rebound you can imagine."
Holden has also fit the DNA typical of Towson teams with his toughness.
Following a 69-52 win over Navy—a team likely to reach this year's NCAA Tournament—reports of Holden missing all of January due to a fractured jaw surfaced.
He proceeded to miss no time at all, recording 14 points, five rebounds and a steal while wearing a mask at Drexel.
"Really tough," Skerry said of Holden. "He doesn't like [wearing the mask], but he'll get used to it. He's a really competitive guy. He's got a good feel. He likes passing. We need him on the floor, just because he can do so many different things."
Holden's all-around play ties together a multifaceted team between the consistent 3-point shooting of Timberlake, Jason Gibson and Antonio Rizzuto; the explosive two-way perimeter game of Terry Nolan Jr.; and interior physicality of Charles Thompson.
Now combine all those elements with the typical Towson mentality.
"Everybody in the CAA knows how Towson plays," Timberlake said. "It's always going to be a tough battle each and every night."
So while pundits may not have been blowing up Pat Skerry's phone in September, they could be burning up the lines come March if the Tigers can continue their inspired first-half play.