2022 Hofstra vs UNC Wilmington
CAA Turns Up the Heat in January's Final Week
CAA Turns Up the Heat in January's Final Week
Games featuring Towson, Delaware and UNC-Wilmington will shape the last week of January in CAA basketball.
Jan 22, 2022
by Kyle Kensing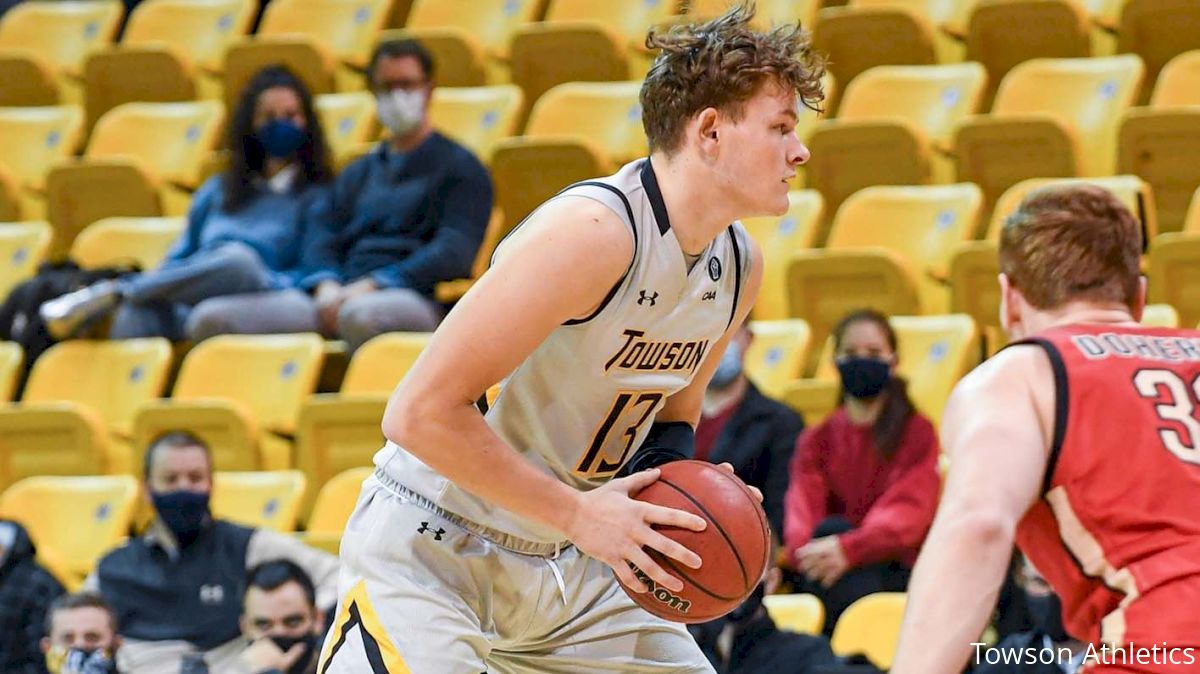 The center of the college basketball universe this past week was the Colonial Athletic Association.
From posterization dunks…
We think this dunk is #SCTop10 worthy, don't you?@ESPNAssignDesk @SportsCenter #UnitedWeRoar | #NCAAMBB | #CAAHoops pic.twitter.com/KwRh3e66Fx

— Towson Men's Basketball (@Towson_MBB) January 21, 2022
…To game-winning buzzer-beaters…
Take your pick. Any angle. @jaylen_sims delivers the dagger.
Seahawks stay unbeaten in #CAA with 4-0 record. #SCTop10 @SportsCenter pic.twitter.com/J6ZBeFLNYo

— UNCW Basketball (@uncwmenshoops) January 21, 2022
CAA basketball is taking center stage nationally as the conference season intensifies. And with February on the horizon, the action promises to get even more intense.
The stage is set for January's final week and the beginning of the conference season's back-half.
Towson Vs. Delaware
Towson's unselfish ball movement and usual high-intensity defense have the Tigers roaring through the first half of CAA competition. Pat Skerry's bunch is exceeding preseason expectations both in the league and at a national level with a top 100 KenPom.com overall rating.
The Tigers went from a surprising dark horse to the conference's team to beat. The target that comes with setting the pace is evident when Towson travels to preseason CAA favorite Delaware.
UD counters Towson's stout defense with one of the most efficient offenses in mid-major basketball, ranking in the top 80 nationally. The Blue Hens perimeter trio of Kevin Anderson, Jameer Nelson Jr., and Ryan Allen are well-established scoring threats, but Andrew Carr's emergence early into conference play adds another weapon on the interior to complement Dylan Painter.
Few teams in any league can match Delaware's scoring versatility, but Towson's might be one that can make that claim. Charles Thompson, Terry Nolan Jr., Cam Holden, Nicolas Timberlake and Jason Gibson all average north of 7.5 points per game—the latter four are scoring better than 11 points per game.
Monday's meeting in Newark is the first of two straight between the Tigers and Blue Hens. They play again in Towson as part of the CAA's stacked Thursday lineup.
Drexel Vs. James Madison
Last season's CAA Tournament champion and regular-season champion meet in what should be a thrilling clash of styles. Drexel's physically imposing defensive approach contrasts with James Madison's top 70-ranked adjusted tempo.
While the two employ signature looks, they share similar make-up. Both feature one of the CAA's standout big men, with Justin Amadi starring for James Madison of late and Drexel presumably having James Butler ready to go after missing the previous few weeks.
In Butler's absence against Elon, Amari Williams showed off the Dragons' depth with 17 points.
"This is our first game back with a full team, so to get this win is a big thing," Williams told the Philadelphia Inquirer following the rout.
A matchup between backcourt stars Camren Wynter and Vado Morse also promises to shape this showdown between the 2021 champs.
Hofstra Vs. UNC-Wilmington
Two of the CAA's elite perimeter scorers cap what has been an outstanding month in the conference, as Aaron Estrada leads Hofstra into surprising UNC-Wilmington to meet Jaylen Sims and Co.
The Seahawks complete a grueling, four-game road swing on Monday at Northeastern, then return to Trask Coliseum for the weekend set against the Huskies before hosting the Pride.
UNCW coach Takayo Siddle said, while he "wouldn't tell my guys this," the dog-fight nature of the CAA means a 2-2 road trip is a success for teams hoping to win the league. The Seahawks meeting that benchmark keeps them in line to challenge for the championship, but defending home court is vital.
Hofstra has been unbeatable on Long Island this season, but shaky on the road. This weekend's road trip is the longest excursion the Pride take in conference play.