2022 Towson vs Charleston - Men's
CAA Games Of The Week: Stars Carry Contenders Into Stretch Run
CAA Games Of The Week: Stars Carry Contenders Into Stretch Run
The competition for Player of the Year could be as exciting in the coming weeks as the tightening championship chase.
Feb 11, 2022
by Kyle Kensing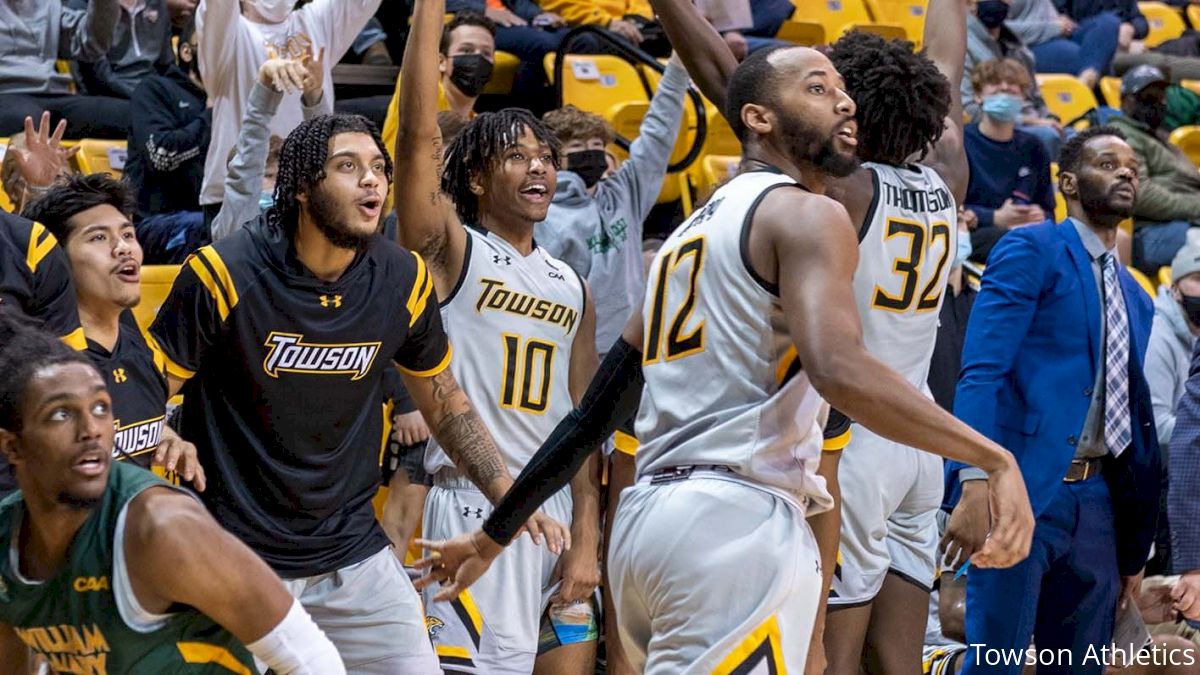 Still not sure what to get that special someone in your life for Valentine's Day? The gift of Colonial Athletic Association basketball is far more exciting than flowers or chocolates, and the CAA starts the week with a full bouquet of excellent games on Feb. 14.
A Valentine's tripleheader ushers in what should be a pivotal week as the conference title chase approaches the stretch run. With meaningful games on four of this week's seven days, there's no shortage of CAA basketball to love.
With its conference-leading winning streak snapped, UNC-Wilmington heads into the upcoming week with a much smaller cushion. Through games played Feb. 10, the Seahawks' lead atop the Colonial dropped to just one game over Towson and two over surging Hofstra.
The Pride dealt UNCW one of its two blemishes in conference play behind an electric performance from Aaron Estrada, who is playing like the front-runner for CAA Player of the Year.
But don't start engraving the trophy just yet.
UNCW's Mike Okauru has caught fire of late, scoring 20.4 points per game over a five-game stretch, which included a combined 14-of-18 shooting from 3-point range in games against William & Mary and Hofstra.
Towson's Cam Holden has been a rock all season for the KenPom.com No. 90-ranked Tigers, even playing in conference action with a mask after sustaining a broken jaw. He leads Towson in both scoring and rebounding, and ranks third in the CAA in the latter.
The competition for Player of the Year could be as exciting in the coming weeks as the tightening championship chase.
William & Mary Vs. UNCW
The Seahawks faced a challenging road swing last week that resulted in losses at Elon—always a dangerous team come February under Mike Schrage—and at Hofstra. Returning to Trask Coliseum could be what UNCW needs to maintain its thin lead atop the CAA.
UNCW routed Williams & Mary on Feb. 5 in the middle of that three-game road swing, 92-70, behind a stellar performance from Okauru. The Seahawks' Monday matinee sets the table tone for a huge week for their title chances.
James Madison Vs. Delaware
Don't look now, but preseason CAA favorite Delaware won 5-of-7 through Feb. 10 and sits just two games behind UNCW in the loss column with home matchups against the Seahawks and Hofstra in the closing weeks. The Blue Hens also wrap up with Towson, giving them three cracks at the other leading title contenders in the CAA.
Taking care of business elsewhere is essential for Delaware to stay in the championship picture, but James Madison presents a dangerous challenge. The Dukes' 4-8 CAA record belies their play, as they've won five games since Jan. 20 by a combined 24 points. The most lopsided of those—an 85-78 decision at Hofstra—went to overtime.
Hofstra Vs. Elon
Elon's annual late-season upswing has started, with the Phoenix boasting wins over UNCW and Elon in February. Hunter McIntosh has been warming up since the start of the month, and built a five-game streak of knocking down multiple 3-pointers (including five against JMU).
Hofstra's push for championship contention reaches a pivotal stretch, with the Pride trekking down to North Carolina just a few days after a road tilt with Delaware. The back-to-back games could make or break Hofstra's hope for a regular-season title.
Towson Vs. Charleston
Saturday, Feb. 19 at 4 p.m. ET
Towson held off a second-half Charleston rally the last time these teams played. This time around, the Tigers are on the road and coming off a huge matchup the Thursday before at UNCW (airing on CBS Sports Network).
Nicolas Timberlake had a key performance in the last meeting with the Cougars, and Juwan Gray and Charles Thompson combined for 18 rebounds. The pivotal stat from that one, however, is Towson holding Charleston to just 6-of-22 shooting from 3-point range.
The Cougars are picking up steam down the stretch, winning 4-of-5 to close out last week, with the lone loss coming by just three points to Hofstra.