2022 CAA Men's Basketball Championship
CAA Tournament Preview: Towson, UNCW Are Top Seeds In The CAA
CAA Tournament Preview: Towson, UNCW Are Top Seeds In The CAA
Towson and UNC-Willmington shared the CAA Regular Season Champion title, and both come into the CAA tournament on a winning streak.
Mar 2, 2022
by Kyle Kensing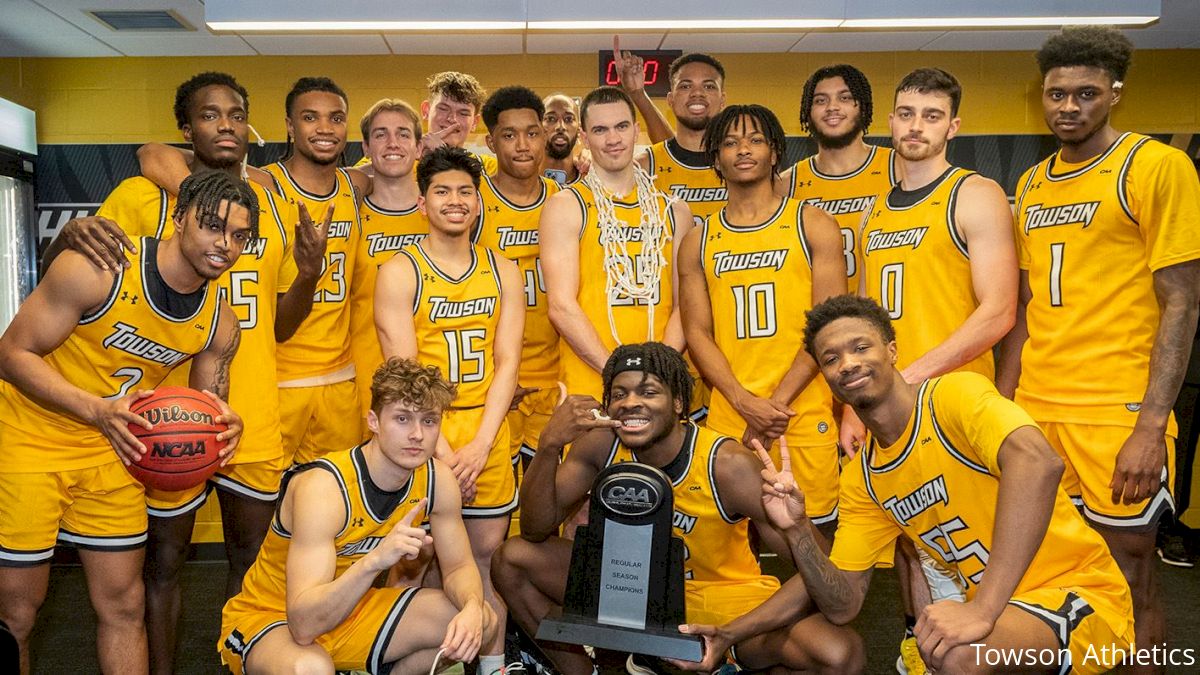 A year ago, Towson and UNC Wilmington played in the 1st Round of the Colonial Athletic Association Tournament, relegated to the No. 9 and 10 seeds. Neither advanced.
The two head into the 2022 edition of the CAA Tournament on the polar-opposite end of the bracket after splitting the regular-season conference championship.
#CAA Regular Season Champions! pic.twitter.com/VN6V6YWoTJ

— UNCW Basketball (@uncwmenshoops) February 26, 2022
UNCW locked up a share of its first Colonial crown in five years with a 69-62 win Feb. 26 at Delaware. The Seahawks completed a wire-to-wire first-place campaign in conference play on a three-game winning streak. Each of their last five wins have been by five points or fewer.
Towson, meanwhile, heads into Washington, D.C. on a seven-game winning streak, with six of those coming by at least 12 points. That includes the conference-title-clinching 69-57 defeat of Delaware on Feb. 28, which was the second half of a game the Tigers trailed by nine points when it was suspended in January.
.@towson_mbb are regular season #CAAHoops Champions! pic.twitter.com/aeW3GFcmcV

— CAA Basketball (@CAABasketball) February 28, 2022
Towson's double-digit-point margins of victory over the past month have helped fuel its climb up assorted advanced metrical rankings. The Tigers went into the finale ranked No. 57 in the NCAA's NET metric, and No. 63 in KenPom.com overall rankings.
Based on those numbers, Towson has a reasonable if not strong case for an at-large bid into the NCAA Tournament. For comparison's sake, VCU received an at-large invitation to the Big Dance out of the Colonial in 2011 with a comparable KenPom ranking.
All the Rams did from there was make a run to the Final Four.
Of course, it's hardly an outlandish assumption to suggest Pat Skerry would prefer his top-seeded Tigers hold serve in D.C., leaving nothing to Selection Sunday chance. They'll aim to cap their first CAA regular-season championship season with the program's first NCAA Tournament appearance since 1991.



No. 8 William & Mary Vs. No. 9 Northeastern
Saturday, March 5 at 5 p.m. ET
William & Mary and Northeastern get things started at St. Elizabeths East Entertainment and Sports Arena in Saturday's play-in round. The winner advances to face No. 1 seed Towson on Sunday.
The Tribe come into the CAA Tournament aiming to leave an unfortunately exclusive club with Army, The Citadel and Saint Francis (New York) as the only original NCAA programs to never make the Dance.
Northeastern embarked on the 2021-22 season with a lineup that looked built for the program's third NCAA Tournament since 2015. But the Huskies struggled throughout the campaign and were winless in CAA play until Feb. 5.
That first win, however? A 58-53 defeat of top-seeded Towson.
Northeastern's other conference win came Feb. 24 over the same William & Mary bunch it opens opposite in the CAA Tournament. The Huskies held the Tribe to 28 points in a 34-point romp.
Saturday's winner advances to Sunday's opening game at noon ET.
No. 4 Drexel Vs. No. 5 Delaware
Sunday, March 6 at 2:30 p.m. ET
Reigning CAA Tournament Drexel and preseason league favorite Delaware finished the regular season with matching 10-8 conference records. The Blue Hens ended the regular season on a three-game skid, immediately on the heels of a three-game winning streak—the Dragons won three of their last four.
Delaware and Drexel split the season series, with the road team winning each matchup. Melik Martin went for 21 points in the Dragons' Feb. 3 win, while Amari Williams posted a 10-point, 10-rebound double-double.
The Blue Hens backcourt duo of Jameer Nelson Jr. and Ryan Allen combined for 43 points in Delaware's Jan. 11 defeat of the Dragons.
No. 2 UNCW Vs. No. 7 Elon
Sunday, March 6 at 6 p.m. ET
UNCW surged to the CAA lead thanks to a 9-0 league start—part of a 12-game winning streak that was among the nation's longest. That streak snapped in a 78-65 loss to Elon on Feb. 3.
Elon teams have had a knack for playing up late in the season during Mike Schrage's tenure as head coach, including last year when they made a run to the CAA championship game. The Phoenix closed the regular season with wins on the road over both Hofstra and Northeastern—each by double-digit-point margins.
The 81-55 rout of the Pride on Feb. 24 saw Darius Burford go for 21 points and eight rebounds, while Andrew Junkin's 16 points on 5-of-7 shooting and 10 rebounds showed off some depth on the Phoenix bench.
They'll need depth if they're to replicate last season's run, starting with the quarterfinal matchup against UNCW. The Seahawks are among the league's most balanced teams with a triple threat of Jaylen Sims, Mike Okauru and Shykeim Phillips all scoring in double figures.
Jaylen Fornes has provided scoring spark off the bench, and James Baker Jr. closed the regular season as one of the CAA's hottest players.
No. 3 Hofstra Vs. No. 6 Charleston
Sunday, March 6 at 8:30 p.m. ET
Sunday's nightcap concludes a back-to-back for Hofstra and Charleston, which closed their regular season schedules Feb. 28 on Long Island against each other.
The Pride and Cougars boast two of the CAA's most potent offenses. Hofstra heads into the postseason ranked in the nation's top 75 for adjusted offensive efficiency per KenPom.com metrics.
Aaron Estrada's ability to score almost anywhere on the court buoyed the Pride, while Omar Silverio comes in shooting the 3-pointer better than almost any other player in the nation over the last two weeks.
Charleston's uptempo style can push opponents out of their comfort zone—like Delaware, which the Cougars knocked off in a 99-96 shootout the final week of the regular season.