BIG EAST Women's Basketball
BIG EAST Women's Tournament: Marquette, Seton Hall Make Statements
BIG EAST Women's Tournament: Marquette, Seton Hall Make Statements
BIG EAST Women's Basketball Tournament Quarterfinals recap: Marquette beats DePaul at its own game, Seton Hall plays spoiler, UConn back to normal?
Mar 6, 2022
by Briar Napier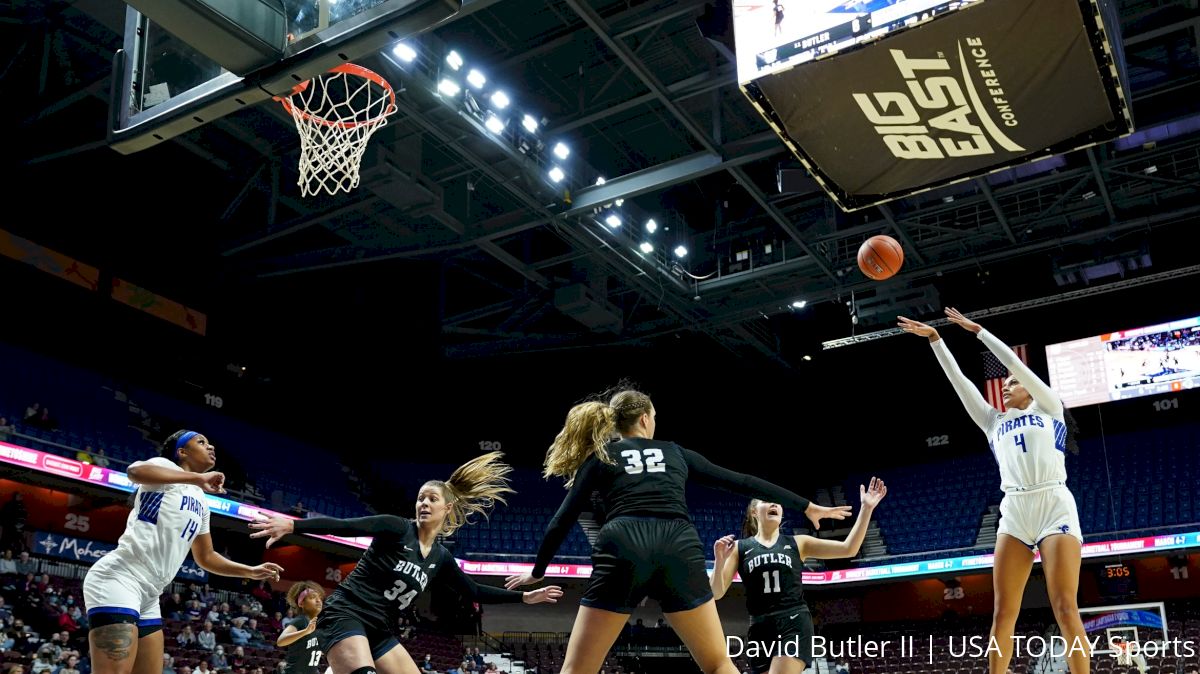 It's a time of year in college basketball to expect the unexpected, and that mantra was more than apparent in the quarterfinal round of the BIG EAST Tournament on Saturday. Both a No. 5 and No. 6 seed will be playing in Sunday's semifinal with spots in Monday's title game—and an automatic berth to the NCAA Tournament—on the line.
As for the top-two seeds that also made it to Sunday, there are points to prove on each side for different reasons. One seeks to remind the rest of the field just who it is. The other wants to be heard as it pushes for a bid to the NCAA Tournament.
What went down in Saturday's quarterfinal round? Here are three takeaways and some insight heading into Sunday at the BIG EAST Tournament:
Marquette Beats DePaul At Its Own Game
On the surface, it's not a shock that a team cracked 100 points in the Marquette-DePaul quarterfinal Saturday. It's more surprising that Marquette was the team to do it. A massive matchup with huge NCAA Tournament bubble implications, the Golden Eagles shockingly handled the Blue Demons with relative ease in a 105-85 win, leading the nation's highest-scoring offense by 11 points at halftime and never looking back as coach Megan Duffy's team got a huge boost to its tournament resume. Marquette sophomore forward Liza Karlen was spectacular—going for a career-high 26 points on 12-for-15 shooting to go along with 14 rebounds—to cap off a quietly-awesome three-game run in which the Minnesotan has averaged 21.6 points and 11.3 rebounds in three Golden Eagles wins.
𝕄𝕒𝕣𝕢𝕦𝕖𝕥𝕥𝕖 𝕀𝕤 𝕄𝕠𝕧𝕚𝕟𝕘 𝕆𝕟!

The Golden Eagles finish with 105 points on a ridiculous 65.7 percent shooting day. @MarquetteWBB will face top-seed UConn on Semifinal Sunday! pic.twitter.com/wEIJHUgtib

— BIG EAST WBB (@BIGEASTWBB) March 5, 2022
For DePaul, the result was officially a worst-case scenario—squarely on the bubble entering the conference tournament, its fate now rests in the hands of a selection committee that's seen it sputter to three losses in its past four games. Bizarrely, the Blue Demons (a team that averages over 40 rebounds a game) got beat on the boards as Marquette dominated the rebounding battle 49-17, with the nation's leading glass-cleaner—DePaul freshman Aneesah Morrow—held to just six boards on the day and to single digits in the category for the first time since Dec. 3. A Marquette win against No. 1-seeded UConn, which has won its last six games against BIG EAST opponents by an average of 47.3 points, in their semifinal meeting at 3 p.m. ET Sunday on Fox Sports is much less likely to be in play, so cleaning house against a fellow bubble-watcher was a ginormous help to the Golden Eagles' March Madness hopes.
Seton Hall plays spoiler, upsets Creighton
In FloHoops' BIG EAST Tournament preview earlier this week, we noted that if there was any team in the field that could throw a wrench into a program's postseason dreams, it'd be Seton Hall. Told you so. The sixth-seeded Pirates upended No. 3 Creighton in a wild 66-65 win to cap off the Saturday games, with junior forward Mya Bembry's 15-footer with 2.1 seconds to play proving to be a game-winner as the Bluejays' buzzer-beater attempt went offline. Bembry was one of four Seton Hall players to reach double-digit scoring numbers as it was led by Sidney Cooks' game-high 20, and the Pirates are now 10-1 in their past 11 games and arguably the most dangerous remaining team in the tournament.
ℙ𝕀ℝ𝔸𝕋𝔼 ℙ𝔸ℕ𝔻𝔼𝕄𝕆ℕ𝕀𝕌𝕄!

#6 @SHUWBB wins an absolute CLASSIC and is moving on to Semifinal Sunday! pic.twitter.com/v7RF7VlX4M

— BIG EAST WBB (@BIGEASTWBB) March 6, 2022
Creighton should still be safely in the NCAA Tournament nonetheless—the Bluejays were a No. 8 seed in ESPN "bracketologist" Charlie Creme's most-recent bracket projection update Saturday morning—but Villanova certainly is not, which Seton Hall will take on in the semifinal round at 5:30 p.m. ET Sunday on Fox Sports 1. The second-seeded Wildcats easily dispatched St. John's 76-52 in their quarterfinal meeting Saturday as they are in the "First Four Out" category within Creme's update, but the win mixed with DePaul's defeat likely gives 'Nova a bit of extra breathing room. But if Villanova loses to a Seton Hall team likely not making the Big Dance, then things could get hairy. Newly-crowned BIG EAST Player of the Year Maddy Siegrist and Co. could very well be in a win-and-in scenario Sunday in the eyes of the selection committee. Yet simultaneously, Seton Hall has a spoiler role it's creating for itself—and it could put a team on the outside looking in on March Madness in the process.
UConn, Back To Normal?
UConn, widely known as possibly the pinnacle of elite programs in women's college basketball, trekked a rocky road this season. After all, only two players on the roster—Evina Westbrook and Aaliyah Edwards—have played in all 28 games in 2021-22. With his team ravaged by injuries and a midseason COVID outbreak, coach Geno Auriemma usually wasn't starting his best-possible five throughout the year, as UConn currently has its most losses in a season (five) since 2011-12.
Now that the heavy hitters on the roster like Paige Bueckers (nine games this year) and Azzi Fudd (17 games) are getting healthy at just the right time, the Huskies could be featuring the most underrated team heading into an NCAA Tournament that they've ever had. For the rest of the BIG EAST right now in the conference tournament, that's pretty scary. Georgetown felt the pain in UConn's easy 84-38 win Saturday over the Hoyas in their BIG EAST quarterfinal meeting, with Bueckers—still with some restrictions on floor time as she returns from a knee injury—going for a game-high 16 points in just 18 minutes. It was a routine result for the Huskies, who now have scored at least 84 points in five of its past six games as the team has finally been able to build a bit of chemistry uninterrupted.
𝕊𝕖𝕖 𝕐𝕒 𝕀𝕟 𝕋𝕙𝕖 𝕊𝕖𝕞𝕚𝕤, '𝕊𝕜𝕚𝕖𝕤!@UConnWBB x #BEtourney pic.twitter.com/kmO0CHNrSP

— BIG EAST WBB (@BIGEASTWBB) March 5, 2022
Marquette, on a roll and desperate for anything to increase its standing for an NCAA tourney bid, will be a tougher task in Sunday's semifinal meeting, but UConn also beat the Golden Eagles by 33 on Feb. 23 without Bueckers. The Huskies have been and still will be the overwhelming favorites to win the BIG EAST tourney until proven otherwise, but as of recently, they've only accentuated the point with blowout after blowout.
The final four.

Semifinal Sunday action kicks off at 3 ET on FS1! pic.twitter.com/O6Ng5KaJtm

— BIG EAST WBB (@BIGEASTWBB) March 6, 2022