2022 CAA Men's Basketball Championship
CAA Men's Tournament: Veteran Leadership Carries Delaware, UNCW
CAA Men's Tournament: Veteran Leadership Carries Delaware, UNCW
Both Delaware and UNC-Wilmington emerged from hard-fought victories to earn a one-game opportunity at making the 2022 NCAA Tournament.
Mar 8, 2022
by Kyle Kensing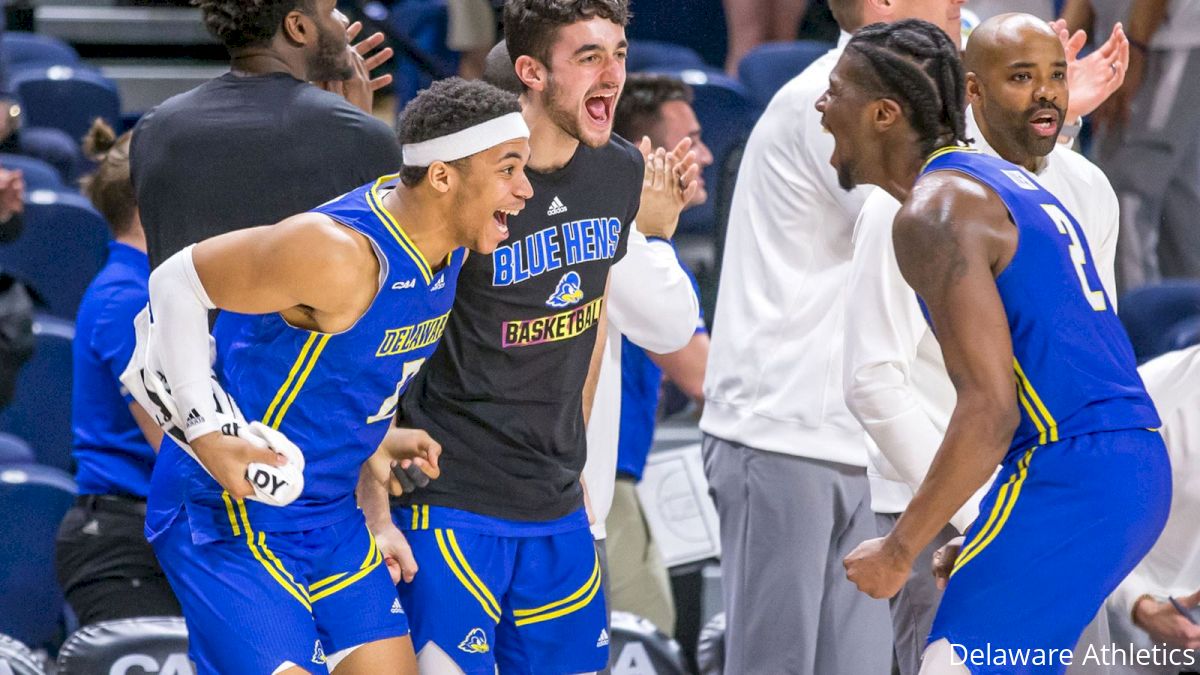 Win and you're in.
Such is the scenario for Delaware and UNC-Wilmington, winners in Monday's Colonial Athletic Association Tournament semifinals. Both emerged from hard-fought victories to earn a one-game opportunity at making the 2022 NCAA Tournament.
Delaware reaching the CAA championship was to be expected, if preseason polls are to be believed. Despite coach Martin Ingelsby's protests, the Blue Hens were tabbed the conference's preseason favorite.
UNCW, on the other hand, was pegged near the bottom.
Try as they might to block out such noise, the competitive nature of elite athletes and coaches can't help but take satisfaction in disproving unfavorable projections.
On his way out of the press availability (and my really terrible second question ... sorry about that) @CoachSiddleUNCW says to me with a smile, "Didn't expect us to get this far, did you?"

Nope. Sure didn't.

— Dan Spears (@DanSpears) March 8, 2022
The Seahawks can complete a double-championship season with a win Tuesday, adding a tournament crown to their shared regular-season championship. The CAA Tournament and its ticket to the Big Dance would make for a fitting chapter to a storybook turnaround in UNCW's second season under Takayo Siddle.
It's rarely been easy on the way to 23 wins for the Seahawks, and Monday's 60-57 semifinal win was no exception. UNCW shot just 39.6 percent from the floor, but held a Charleston offense that plays with the nation's fastest pace to just 38.3.
The 57 points to which the Seahawks held the Cougars were 35 fewer than Charleston scored in its quarterfinal win over Hofstra, and UNCW limited John Meeks to eight points on 3-of-12 shooting. Meeks scorched Hofstra for 31.
In a game decided by defense, it's only appropriate that three of the biggest plays came on that end for UNCW.
First, Mike Okauru flipped the momentum after the Seahawks had fallen behind by two possessions, anticipating a pass on the perimeter and taking the steal down for a dunk.
I'll take that is probably what Mike Okauru was thinking@uncwmenshoops SLAM#CAAChamps on @cbssportsnet pic.twitter.com/NVBa6agyJC

— CAA Basketball (@CAABasketball) March 8, 2022
Then, with just 1:24 remaining and UNCW clinging to a one-point lead, Jaylen Sims soared over everyone on the court to snag an emphatic rebound. The ensuing possession led to an Okauru bucket, pushing the Seahawk lead to three points.
Finally, James Baker Jr. rotated to meet a driving Meeks on his way to the rim. Baker drawing the charge effectively sealed the win.
WOW! Charge. Who knows? That's questionable.

58-57 UNCW with 2.4 remaining. pic.twitter.com/p74M7Cxns7

— Nick Lorensen (@nlorensensports) March 8, 2022
Delaware won in a more lopsided final score in its semifinal–69-56 over Towson–but the Blue Hens encountered a critical stretch in a one-possession contest all the same.
UD built a 15-point first-half lead, which the Tigers slashed to seven by intermission. Towson then pulled to within two early in the second half. In some ways, it paralleled the suspended half the same two teams finished last week, when the Blue Hens opened with a nine-point lead and 18 minutes to go, yet lost by double-digits.
But in a timeout amid Towson's run, Ingelsby had reason to see this time would go differently.
"It was one of those [times] where I went back to the huddle and I didn't have to say a whole lot. These guys were talking to each other," he said.
"They're saying the things I want to say to them, and that obviously gives me great confidence in their ability to stay poised."
That composure can be attributed, at least in part, to the Blue Hens' response to that Feb. 28 restart loss at Towson.
"We had a disappointing finish to the end of our regular season," Dylan Painter said.
"We took the week off to regroup, and we knew what we had to do to come down here and win three games in three days. We're in the position we want to be in right now."
2️⃣ down, 1️⃣ to go#BlueHens pic.twitter.com/NDHW1WBNdF

— Delaware Men's Basketball (@DelawareMBB) March 8, 2022
A 15-5 Delaware run that began after the timeout put the Blue Hens in firm control. Fittingly, the upperclassmen were key to the decisive run, with Kevin Anderson burying a pair of 3-pointers and Painter getting a bucket and assist over that stretch.
While plenty of teams around college basketball faced significant roster makeovers in the offseason, a byproduct of open transfers and additional years of eligibility after the COVID-19 pandemic, Delaware reloaded for this very push with a veteran foundation.
"The transfer portal has really changed the landscape of college basketball, and will continue to do it," Ingelsby said.
And indeed, the portal's impact is evident in the CAA Championship–Rookie of the Year Jyare Davis come to Delaware from Providence, while Jameer Nelson Jr. transferred in via George Washington. Likewise, UNCW's Baker transferred from Morehead State and Jaylen Fornes returned to Wilmington after a stint at Nicholls State.
But both Delaware and UNCW turned toward this championship match around pillars, Painter, Anderson and Ryan Allen, and Sims, Okauru (himself a transfer from Florida at one time) and Shykeim Phillips.
"They came back to put ourselves in a position that we're in right now," Ingelsby said.
"Three out of the six years I've been here, we've gotten to the semis at the conference tournament. It's great to break through and get a chance to compete on Tuesday night to cut down nets and play in the NCAA Tournament."