GLIAC Men's Basketball
GLIAC Men's Basketball Preview: Young Talent Poised To Shine
GLIAC Men's Basketball Preview: Young Talent Poised To Shine
This season will be ripe for new talent to shine in the GLIAC, along with at least one new coach at one of the league's premier schools.
Nov 1, 2022
by Ron Balaskovitz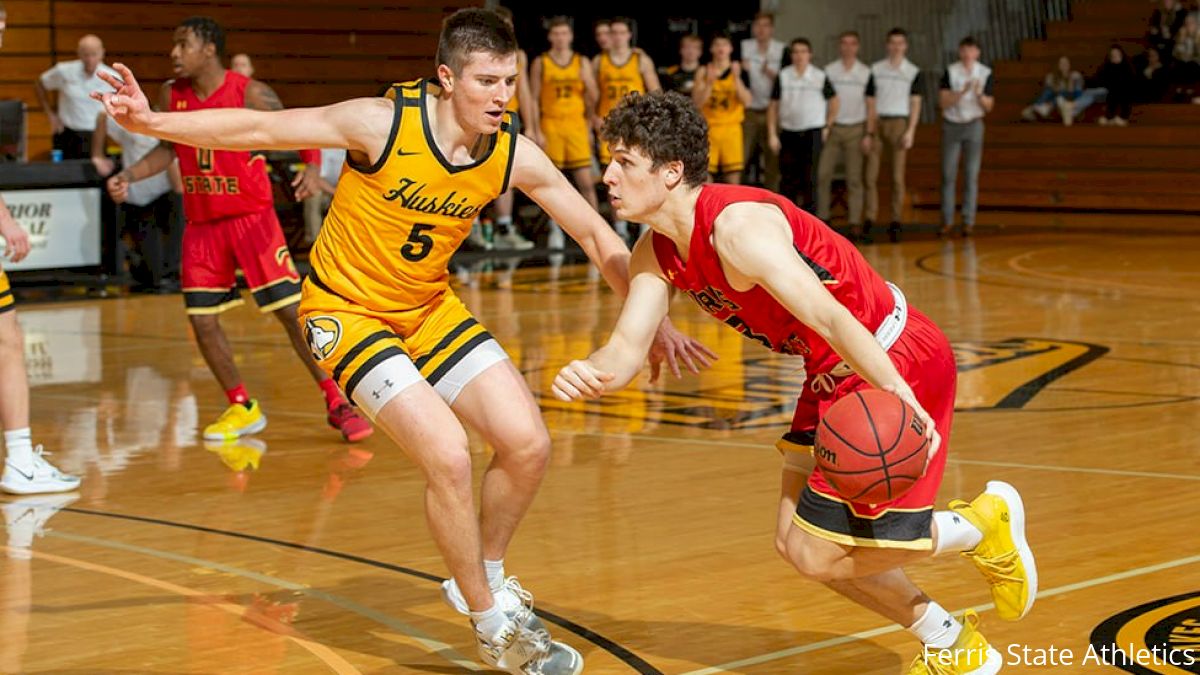 The 2021-2022 season was a somewhat down year by GLIAC basketball standards.
When the final polls of the regular season came out, no teams were ranked among the NABC Top 25, and the league saw its two NCAA Division II Tournament teams win just a single game between them.
But that doesn't mean the league wasn't hotly contested a season ago, with Ferris State and Michigan Tech running away from the other nine teams to finish in a tie for the regular-season crown, while eight of the 11 teams finish at .500 or better in league play and on the season.
The league's depth also showed in the conference tournament, where the last team into the eight-team field made a Cinderella run to the title and automatic bid to the NCAA Tournament.
This season sees the GLIAC drop to 10 teams with the departure of Northwood to the Great Midwest Conference, which could end up being addition by subtraction for the league, as Northwood was just 5-21 (3-16) a season ago.
The league also was senior-heavy last year, with the entire 10-player All-GLIAC first-team being made up of seniors, and the second team seeing just two juniors honored.
That means this season will be ripe for new talent to shine, along with at least one new coach at one of the league's premier schools.
Here's a look at each GLIAC team ahead of the 2022-2023 season, presented in order of last season's finish.
Ferris State Bulldogs
Head Coach: Andy Bronkema
Last Season: 22-9 (16-4), tied for GLIAC regular-season title, reached second round of NCAA Tournament
Ferris State has been the model of consistency in recent years, topping 20 wins last season for the seventh time in eight seasons, and finishing tied atop the GLIAC standings with Michigan Tech.
The Bulldogs return seven letter winners off last season's team but face the challenge of replacing three All-GLIAC selections in Dorian Aluyi, Walt Kesller and Lee Higgins, along with All-Defensive pick Logan Ryan. Those four made accounted for over 50 points per night on team that averaged nearly 87 points per game.
The Bulldogs will be one of the least-experienced teams in the league, with no seniors listed on the preseason roster, and just four juniors. Needless to say, the Bulldogs will be learning on the fly.
Ben Davidson is the top returning scorer. The redshirt junior didn't start a single game last season but came off the bench to average nearly 11 points per game, shooting just under 40% on 3-point attempts.
Vejas Grazulis, a 6-foot-10 junior, and another key bench player last season, also returns. He averaged six points per game to go with three rebounds.
Expect both to step into starting roles, while the Bulldogs try to figure out the other three spots, as well as depth on a team that features 11 underclassmen.
Michigan Tech Huskies
Head Coach: Josh Buettner
Last Season: 21-7 (16-4), tied for GLIAC regular season title, lost in second round of GLIAC Tournament
It was an impressive debut for the Huskies in their first season under Josh Buettner, climbing to the top of the league before getting tripped up by rival Northern Michigan in the GLIAC semifinals to miss out on a postseason berth.
The Huskies must replace three starters off last season's team, including GLIAC Player of the Year Owen White, but the squad does return a pair of starters from a season ago, plus much of its bench depth.
Along with White, the Huskies must replace all-league picks Trent Bell, who led the team in rebounding, and Carter Johnson, who left via the transfer portal. Those three also were the top rebounders on last season's team, so that will be a question for Tech.
Defense was the calling card for the Huskies last season, holding opponents to under 65 points per game, and less than 43% shooting overall.
Sophomore Adam Hobson returns after a strong freshman season that saw him post 12.4 points per game, while shooting nearly 40% from the 3-point line, while Eric Carl returns for his senior season, putting up over 11 points per game and hitting 45% of his 3s.
Together, they give Tech as potent a 1-2 backcourt duo as there is in the league.
Saginaw Valley State Cardinals
Head Coach: Randy Baruth
Last Season: 19-11 (12-8), lost in second round of GLIAC Tournament
Like many of the other top teams from a season ago, the Cardinals face big questions in their lineup, with four of their top-5 scorers from a season ago lost to graduation, while the top returning scorer played in less than half the team's games.
The Cardinals played a number of shootouts last season, averaging over 77 points per game, but they gave up over 73 per game.
Gone are the three leading scorers from last season in Delano Smith, Darnell Hoskins Jr. and Tyler Witz, who combined for nearly half the Cardinals offense last season. Witz and Smith also were the top rebounders for SVSU.
💥Highlights from today's Red & Blue Scrimmage!

Blue got the dub, but both teams made plays and we definitely got better #Brotherhood pic.twitter.com/0KqfinNu2Q

— Saginaw Valley State MBB (@SVSU_MBB) October 23, 2022
But there are promising players back, including Maurice Barnett, who only appeared in 14 games, but in that time netted over 11 points per game as a sophomore, while grabbing over five rebounds per game.
Tre Garrett is another key returner, who also as a sophomore. He appeared in all 30 games, netting seven points per game and nearly five rebounds a night.
That pair should be the starting backcourt on opening night, along with Freddie McIntosh, who in his freshman season put up nearly seven points per game.
A trio of strong if slightly unproven guards is a good base to build on for SVSU.
Beyond that, are six players who combined for roughly 12 points per game between them in few minutes. The big challenge for SVSU will be finding depth to go with their guards, as well as size to play down low.
Northern Michigan Wildcats
Head Coach: Matt Majkrzak
Last Season: 18-12 (12-8), Lost in championship game of GLIAC Tournament
Northern was a surprise in the GLIAC last season, having gone 13-17 and then 8-8 the previous two seasons, before jumping to 18-12 and coming within a game of reaching the NCAA Tournament. The success included hitting 37% of their 3-pointers last season.
Unlike most of the other teams in the league, the Wildcats have a star to build around, with the return of All-GLIAC second-team pick, Max Bjorklund.
Bjorklund paced the 'Cats at just under 17 points per game, hitting 45% of his triples, in addition to being second on the team in assists.
The trouble for Northern is that while they're one of the few teams with a true star back, they have precious little depth coming into the season. After Bjorklund, the next three scorers on the team all were lost to graduation.
Sam Schultz should see a bigger role this season, after averaging eight points and four rebounds per game in 22 appearances, while Carson Smith, another strong 3-point shooter who averaged over eight points per game, also returns.
Beyond that trio, just two players who played in the majority of last season's games return.
Grand Valley State Lakers
Head Coach: Cornell Mann
Last Season: 17-11 (11-9), lost in second round of GLIAC Tournament
It's a new era for the Lakers, as Cornell Mann takes over as the sixth coach in GVSU history, replacing Ric Wesley, who stepped down after 18 seasons at the helm.
Mann comes to the Lakers after spending the past five seasons on the staff at Missouri. A Michigan native, he also had previous assistant coaching stops at Oakland, Iowa State, Dayton, Western Michigan and Central Michigan.
He'll face a huge task in his first season at GVSU, with the Lakers losing their five leading scorers from a season ago, which included three all-league picks. Those five players combined for nearly 60 of GVSU's 75 points per game last season.
Luke Tolliver is the leading returning scorer, averaging just 5.1 points per game in 14 appearances, while Trevon Gunter and Marius Grazulis both logged heavy minutes off the bench.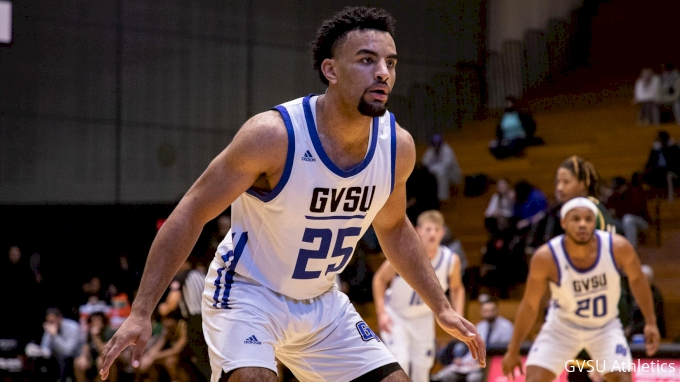 Gunter shot nearly 39% on 3-pointers on his way to nearly five points per game, while Grazulis shot at a 60% clip inside the arc. Outside of that group, just one player who appeared in the majority of games returns.
GVSU did add Daniel Kiely from Texas A&M International, who started 25 games last year, along with Northern Illinois grad transfer Chinedu Kingsley Okanu, who averaged 5.6 points per game and 3.5 rebounds in 29 games for the DI Huskies.
Lake Superior State Lakers
Head Coach: Steve Hettinga
Last Season: 16-11 (11-9), Lost in first round of GLIAC Tournament
The 2021-2022 season was a strange one for the Lakers, one that saw ups, downs and just about everything in between.
The Lakers opened with four straight wins. At one point in the season, they rattled off six straight GLIAC wins, but they closed the year with four straight losses, before being bounced in the opening round of the GLIAC Tournament.
Unlike most of the GLIAC, the Lakers return a large chunk of last season's roster, and with another year of experience, they could be eyeing a run at the GLIAC title.
While they did lose leading scorer Malek Adams and his 19.8 ppg, back are Caden Ebeling (14.8 ppg), Kemon Bassett (14.5), CJ Robinson (8.4), David Wren (8.3) and Xander Okerlund, giving LSSU five of its top-7 scorers from a season ago.
Add in that the Lakers also return four underclassmen who appeared in over 20 games a year ago, and the LSSU could be the deepest team in the GLIAC entering the season.
The Lakers will need to improve their -2.6 rebounding from a season ago and improve on their -3 turnover margin if they're going to make noise, but they are one of the few teams with the talent and experience back to make it happen.
Wisconsin-Parkside Rangers
Head Coach: Luke Reigel
Last Season: 14-14 (10-9), Lost in opening round of GLIAC Tournament
The Rangers enter their fifth season in the GLIAC, and as their record would indicate, they never got too hot or too cold last season. Their longest winning streak was three, while the longest losing streak was four.
Like most of their league opponents, the Rangers must figure out a way to replace a star player, but they do bring back three key pieces off last season's team.
Gone is all-league performer Tray Croft, who topped 20 points per game on 40% shooting from 3-point territory and over 89% from the line - truly a scorer who could do it all, and he accounted for over 25% of the team's output.
It's a big hole to fill, but the return of Jamir Simpson, who was the only other Ranger to break 10 points per game (12.2), should soften the blow. Simpson was a force inside last season, hitting well over 50% of his shots inside the arc, and leading the team at over five rebounds per night.
🟢 "Catching greenlights is about skill!" 🟢#DefendTheDen pic.twitter.com/c7GwYTunCm

— Parkside Men's Basketball (@UWPMBB) October 14, 2022
He'll be joined by Rahseed Bello, the 2021-2022 GLIAC Freshman of the Year, who netted over nine points per game last year, along with Colin O'Rourke's, the previous year's Freshman of the Year winner, who had eight points per game and a 37% mark in 3-point shooting.
It's a trio of efficient scorers, who the Rangers hope can combine to pick up some of the slack left by Croft.
O'Rourke and Bello were also the top blockers a season ago.
One key for the Rangers this season is finding an area in which to excel. They weren't truly terrible in any particular area, but nothing from last season's stats stands out.
Davenport Panthers
Head Coach: Burt Paddock
Last Season: 17-14 (10-10), Won GLIAC Tournament; Lost in first round of NCAA Tournament
The Panthers were the definition of a team getting hot at the right time. At one point, the Panthers were 10-13, but they closed the regular season by taking four in a row, which got them into the GLIAC as the eighth, and last, team.
All they did in the tournament was knock-off No. 1 Ferris State in the opening round, roll past SVSU by 18 in the semis, then crush Northern Michigan in the finals by 33 to punch their ticket to the NCAAs.
The Panthers face a big task if they're to return to the NCAA field, losing five of their top-8 scorers from a season ago, including three of their four best. Among them, Jarrin Randall, the GLIAC Tournament MVP, and All-GLIAC first-teamer Chris Rollins.
Marcedus Leech Jr. is the top returner, netting 12.5 points per game last season, and he is a big outside threat, hitting nearly 40% of his triples over 150 tries.
Jakub Dombek, a former D-I player, returns after appearing in 12 games last season, where he showed promise in averaging over eight points per game.
Beyond that pair, the Panthers, like so many others in the GLIAC this season, will be looking to find depth and secondary scoring in the early portion of the schedule.
Purdue Northwest Lions
Head Coach: Boomer Roberts
Last Season: 7-21 (4-16), Did not qualify for GLIAC Tournament
It sounds hard to believe, but a team that finished 14 games under .500 is the only team in the GLIAC with multiple returning all-league players.
The Lions hope those returners, and being one of the few teams with a number of returning players, can help them improve on a defense that conceded nearly 81 points per game and saw opponents hit nearly 46% of their shots from the field.
One other area to clean up is turnovers. The Lions coughed it up nearly 15 times per game.
The Lions had one of the deeper lineups in the GLIAC last year, seeing eight players average seven points or more per night.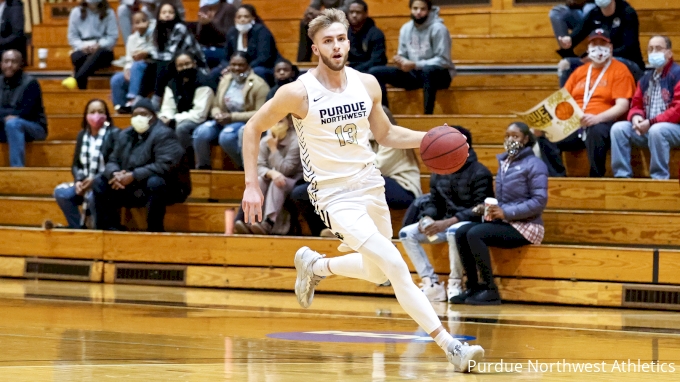 The big returner is all-league pick Anthony Barnard, who led the team in scoring (14.0 ppg) and rebounding (6.7).
They'll also get back second-leading scorer Mikell Cooper and his 12.6 points per game, making the Lions the only team in the GLIAC to return their two leading scorers from last season.
Anthony Irvin (9.3 ppg), Sangolay Njie (8.9 ppg) also return, potentially giving PNW one of the deeper rotations in the league.
Wayne State Warriors
Head Coach: Bryan Smothers
Last Season: 5-18 (4-16), Did not qualify for GLIAC Tournament
Bryan Smothers, who had a hall-of-fame playing career for the Warriors, returns to Wayne State as the 10th coach in program history, and he has big shoes to fill. The last two coaches at Wayne State, Ron Hammye and David Greer, were the winningest coaches in program history, combining for 478 wins in 34 years.
Smothers spent the last three years as an assistant at Niagara and had previously spent five years at Michigan under John Beilein.
While Smothers has to replace his two leading scorers, he returns the next three from an offense that must improve on a league-worst 63.3 points per game.
Avery Lewis is the top returner, netting 11.3 points per game and a team-best 7.6 rebounds per night last season, and he's a potential all-league candidate entering the season.
Also back is Antonio Marshall, who dropped 10.4 points per game, while hitting 35% of his 3-pointers.
Ray Williams Jr. is back after starting all 22 games in which he appeared, averaging eight points and 6.4 rebounds per night and giving the Warriors a strong pair in the post, along with Lewis.
A big area for improvement needed for the Warriors: Winning on the road. Last season, they were 0-11 away from the Wayne State Fieldhouse.