The stage is set for the country's most prestigious spring league, the Nike Elite Youth Basketball League, and it all starts this weekend in Hampton, Virginia. Historically, the Nike EYBL has brought basketball's brightest stars to the spotlight, and the lineup of this year's prospects are no different. Get ready for Flo40 stars galore, but even more so, the unknowns who are ready to show and prove in the 16U division.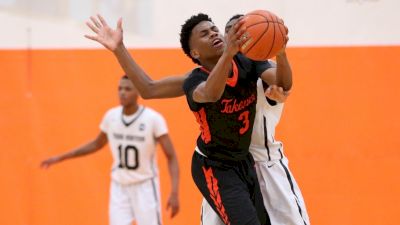 Team Takeover (DC) E16 Nets Peach Jam Berth In Hampton
Apr 26, 2017
All it took was one weekend to make it to the final destination. Team Takeover (DC) wasn't messing around during the first Nike E16 slate in Hampton, VA, this past weekend and has already qualified for Peach Jam after playing just six games.

A perfect 6-0 run was rather impressive. How it went down to capture the E16 Gold Championship was strictly dominant.

Team Takeover 71, NY Lightning 45
Team Takeover 56, NEO Shooting Stars 39
Team Takeover 62, Team CP3 59
Team Takeover 78, Bradley Beal Elite 59
Team Takeover 56, Team United 43
Team Takeover 63, AOT Running Rebels 41

Only one game was decided by single digits. The rest were not even close. So while one more session awaits, be sure to keep an eye on for this squad as it keeps rolling.