Forty teams. Four sessions. One shot at the coveted Peach Jam Championship.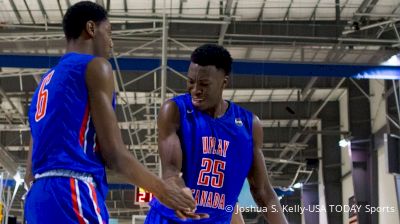 Nike EYBL Scoring Leader R.J. Barrett To Miss Session IV In Los Angeles
May 18, 2017
R.J. Barrett is the real deal, as good as it gets in the high school game, a player who draws everyone's attention as soon as he steps onto the court. Everything the 6-foot-5 shooting guard does is with precision and skill, and the scary thing for opponents is he continues to get better.

Barrett scores with ease, rebounds with force, and distributes with accuracy. His natural ability deservedly gets so much attention, yet the cerebral aspect to his game is what also helps make him the No. 1 player for 2019.

After an incredible sophomore campaign at Montverde Academy (FL), Barrett, as expected, has taken the last two Nike EYBL sessions by storm, averaging a league-high 28.0 points while adding 10.8 rebounds and 3.0 assists in eight games.

In Session III alone, the UPlay Canada star earned All-Session honors by posting a triple-double of 29 points, 14 rebounds, and 10 assists in the opener, dropping 41 points and 13 rebounds the next day (as seen above courtesy of Krossover), recording 21 points and seven rebounds later that night, and finishing with 30 points and nine rebounds in the finale.

Barrett is averaging nearly three points per game more than the rest of the field and could easily finish as the Nike EYBL scoring champion. However, he won't be able to help his cause anymore during Session IV next weekend in Los Angeles.

In a USA Today blog, Barrett wrote he will miss the next set of games due to exams at Montverde Academy.

Additionally, in the same post, Barrett indicated there's a chance he could reclassify to 2018, which would certainly create a buzz as to who would be No. 1 between him and Marvin Bagley III.

That, of course, is for a later time.



FloHoops' best content, delivered to your inbox!
Don't miss breaking news, feature stories, event updates, and more. Sign up for the FloHoops mailing list today.