2023 Butler vs Georgetown - Women's
BIG EAST Women's Basketball Games Of The Week: Marquette Looking To Rebound
BIG EAST Women's Basketball Games Of The Week: Marquette Looking To Rebound
BIG EAST Women's basketball schedule features Marquette hosting Providence as the Golden Eagles look to snap skid while St. John's faces Villanova.
Jan 10, 2023
by Briar Napier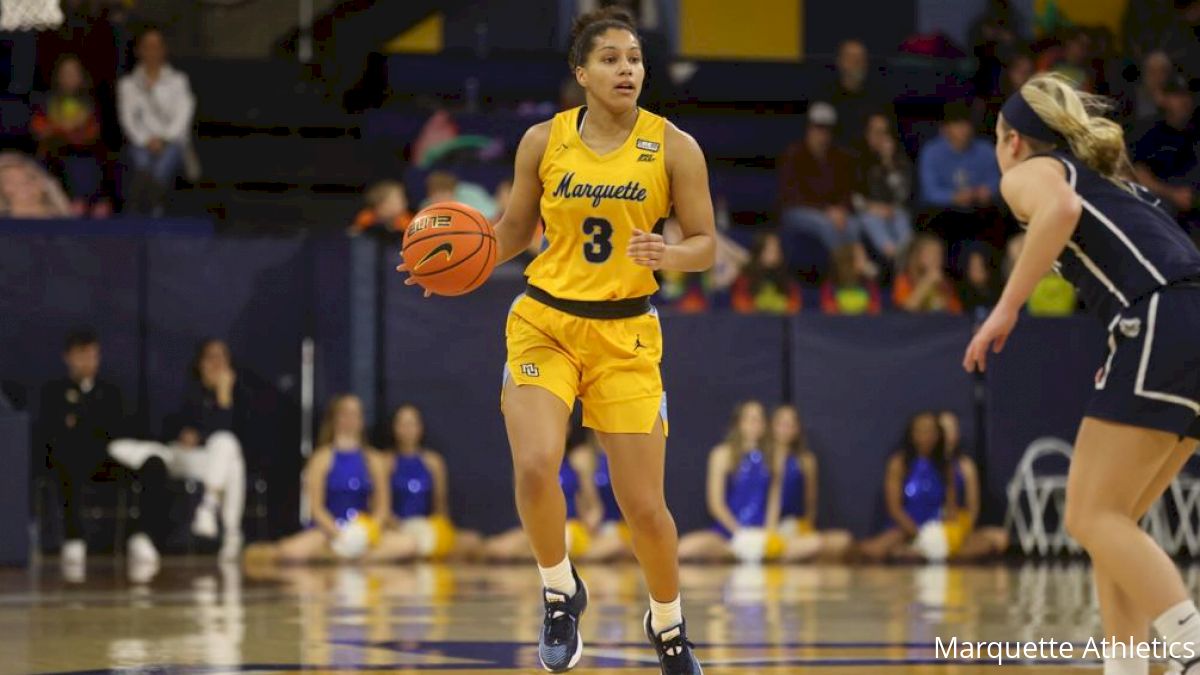 In the BIG EAST women's basketball gauntlet, few games, if any, are guaranteed victories.
Some favored squads found that out the hard way this past week.
No unbeaten team remains in the league following last week's matchups, and with four programs currently with one conference loss or less, mid-January is shaping up to be a wild time in the conference.
As teams battle road trips, injuries and anything and everything in between in the thick of the college hoops season, only the strongest will rise to the top, making each week of games of vital importance. It's no different for the week ahead in the BIG EAST, either, with numerous games having the ability to have major seeding and standing implications down the line.
Here's a look at the Big East women's basketball games to check out this week on FloHoops, which will stream league games all season long:
NOTE: Statistics and records are updated as of Monday evening.
Georgetown Vs. Butler
Georgetown and Butler had a combined 10 wins total a season ago. This year, meanwhile, the season isn't even halfway into January yet and both programs have combined to tally up 14 victories between them. Though both teams currently have a lot of work to do to climb back into the top half of the current Big East standings, the Hoyas and Bulldogs are chugging along and picking up regular wins and staying competitive while they're at it. In the midweek slate of games this week, however, they'll have to duke it out against each other.
For Georgetown, it at the moment has a winning record at 8-7 overall and is within striking distance of its first double-digit win campaign in four years. That effort is being led by one of the league's best freshman guards in two-way dynamo Kennedy Fauntleroy (12.0 points, 2.9 assists per game), a 3-and-D specialist that does both of those items at an elite clip — her steals per game (2.5) and 3-point percentage (42.3%) each rank among the top five of all BIG EAST players, with Fauntleroy the only one that high in both statistical categories.
Butler, on the other end, is 6-10 entering its matchup with the Hoyas, but the Bulldogs have already eclipsed their win total from the past two seasons combined (four) and have improved massively under first-year coach Austin Parkinson, who spent over a decade across town at IUPUI (becoming the program's all-time wins leader) before being plucked in the offseason to coach a team that only won one game a year ago. A hot-shooting team at 36.1% in BIG EAST play (second in the conference), Butler dropped 79 points on Xavier, a team in a similar league position at the moment as this game's two teams, last month in a win in which it sunk 12 triples and got a 20-point, seven-assist night from leading scorer Rachel McLimore (12.0 points per game), who followed Parkinson from IUPUI in the offseason. Stopping her should be high on the list of Georgetown's defensive plans, however: Butler does not have another player averaging double-figure scoring numbers and is plagued with a turnover issue, giving the ball away on 22.5% of offensive possessions.
St. John's Vs. Villanova
It finally happened: St. John's lost a game.
One of the five remaining unbeaten teams in women's college basketball entering last week, the Red Storm's historic 13-0 start to their season was emphatically given its first blemish at the hands of Seton Hall last Wednesday, which ran St. John's out of the gym in a 72-51 rout. The biggest question in the days following the Red Storm's first loss of the year was going to be how they responded to such a defeat, and the answer came in the form of a reassuring 19-point win over Xavier on Sunday where star guard Jayla Everett dropped 26 points and forward Jillian Archer had a 16-point, 13-rebound double-double.
If St. John's wants to seriously prove that it's here to stay in the top half of the Big East table, however, it almost certainly has to beat Villanova this weekend. The only problem with that is that the Wildcats have the best scorer in all of college basketball.
Reigning and defending BIG EAST Player of the Year Maddy Siegrist is still doing, well, Maddy Siegrist things, scoring 28.5 points per game with four 30-point performances in her past seven outings—including a ridiculous 36-point, 13-rebound, four-assist day in a 'Nova win against Butler on Sunday. St. John's does have one of the best defenses in league play thus far (57.7 points allowed per game), to be fair, possessing a unit that is fierce on the interior (6.0 blocks per game in BIG EAST play) and as a whole has only allowed two players all season to score 20 points or more against it. Meanwhile, Siegrist hasn't scored less than 21 points in a game yet in 2022-23, meaning that something's got to give, though the Wildcats arguably have the edge when it comes to supporting casts around its stars. Sophomore guard Lucy Olsen (12.4 points, 3.9 assists per game, 49.1% 3-point percentage) is an underrated and dependable second option if it takes Siegrist a while to get going, whereas fellow backcourt mate Maddie Burke can pop up with the important double-figure scoring night here and there, as she has in Villanova's past two Big East games (11 and 13 points against Georgetown and Butler, respectively).
Providence Vs. Marquette
Marquette's direction this season is taking a bit of a wrong turn at the moment and it needs a shot in the arm, and fast.
The Golden Eagles have lost four of their past five games in a brutal stretch that consisted of Colorado, Villanova, UConn, DePaul and Creighton, but the 26-point dismantling by the Bluejays in Omaha this past weekend may not sit well down the line with the NCAA Tournament selection committee — Marquette was considered as part of the "First Four Out" category in ESPN women's hoops analyst Charlie Creme's last bracket prediction Jan. 3. Therefore, a home tilt against a middling Providence team now becomes more like a must-win, even in mid-January, if the Golden Eagles want to keep pace toward their aim of making it back to March Madness after missing out a year ago.
The Friars, however, are not going to be a tough out. Coach Jim Crowley's team beat that same Creighton squad in Omaha on Wednesday just a few days before the Bluejays blew out Marquette, pulling off a major shock in Big East play as women's basketball analytics site Her Hoop Stats gave Providence just a 5.8% chance in pregame to beat the Elite Eight team from 2021-22. Junior Friars guard Grace Efosa had the game of her life against Creighton, scoring 27 points on 12-for-17 shooting, but the scoring outburst didn't bleed over into Sunday's loss against Seton Hall as the Massachusetts native was held to just four points.
Look for graduate guard Janai Crooms (12.4 points, 7.5 rebounds, 4.1 assists per game) to be the more likely focal point of the Providence offense instead as she looks to continue her quietly-impressive season that has her heavily involved in multiple ways, like when she put up a 19-point, 13-rebound, seven-assist statline on Bryant in November. Marquette, meanwhile, has a tendency to run into a bit of a scoring wall at times, as evidenced by the fact it's only scored more than 58 points once in its six losses. Still, guard Jordan King (14.9 points, 4.0 assists, 2.3 assists per game) is doing her best to help the Golden Eagles keep up, having scored at least 20 points on six occasions and in double figures in 13 of 16 games.