2023 UNC Wilmington vs Charleston - Men's
CAA Games Of The Week: UNCW-CofC Rematch Has Championship Stakes
CAA Games Of The Week: UNCW-CofC Rematch Has Championship Stakes
College of Charleston and UNC Wilmington delivered an instant classic in their first matchup of 2023. Find out what the sequel has to offer.
Feb 6, 2023
by Kyle Kensing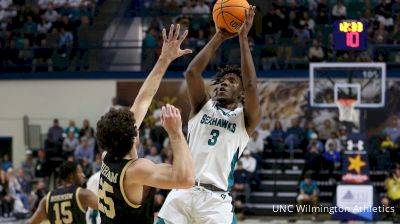 Unlock this video, live events, and more with a subscription!
Get Started
Already a subscriber? Log In
January's meeting between College of Charleston and UNC Wilmington lived up to the hype, and then some. A showdown of two teams that then boasted the nation's longest winning streaks was decided in the closing seconds, and very nearly on a buzzer-beater.
Less than a month remains in the Colonial Athletic Association regular season, and the Cougars and Seahawks face off again with conference-title aspirations at stake. CofC remains atop the conference at 10-2, tied in first with surging Hofstra, while UNCW is riding a new winning streak to sit just a game behind the league's pace-setters.
Charleston has hosting duties after fans packed Trask Coliseum last time around, and you can expect a similar electricity at TD Arena in this go-around if Cougars coach Pat Kelsey's call-to-action is any indication.
This is to THE city. OUR city! Yo, do me a favor; show this, text this, tweet this, say this, shout this to anyone and everyone in this AMAZING city. This is the stretch run. This city and our team has created something special together. Let's take it to another level. Our City! pic.twitter.com/92ExWdLY2a

— Pat Kelsey (@patkelsey) February 6, 2023
After dropping heartbreakers to Hofstra and at Drexel, CofC got back on track with an 84-67 rout at Delaware last weekend. Dalton Bolon continued to build his case for All-CAA and perhaps Player of the Year recognition with 18 points, his eighth double-figure scoring game in the last 10.
Included in that stretch is a 16-point effort at UNCW, matching a game-high. The Seahawks Trazarien White was one of the three players who reached 16 points in the Jan. 11 contest, and UNCW's leading scorer for the season comes into the Feb. 8 rematch fresh off a 21-point performance against William & Mary.
The win over the Tribe extended the Seahawks' current winning streak to four, second-longest in the CAA through Feb. 4. UNCW has held its opponents to 56.5 points per game over those four, including grounding a prolific North Carolina A&T offense to 63 points last Thursday.
"Everybody in this league...they play hard. But it's only a elite amount of people [who] compete," Takayo Siddle said following the 24-point rout of A&T. "Coming into the game, we'd been working offensively on moving the basketball. We over-emphasized moving the basketball and making simple plays. With that, you work on your defense too, and I think it helped with our transition defense."
The Seahawks have been excellent this season defending from beyond the line and in generating turnovers, two areas in which Charleston was the exception against UNCW. The Cougars made 10 3-pointers in Trask while committing just 10 turnovers.
Elon was knocking on the door of a breakthrough win for first-year coach Billy Taylor's tenure several weeks prior to the Phoenix's 72-58 win over Drexel on Jan. 28. Now that Elon is a winner in three straight, most recently rallying late to knock off Northeastern in a thriller, the Phoenix look like one of the conference's most dangerous teams.
"You've seen how these kids have fought and competed," Taylor said following the Drexel win. "While the results haven't come as weekly as we wanted, we could tell as a coaching staff this team had something and at some point, it was going to turn for them."
Turn it has. Add a defeat of Stony Brook between the Drexel and Northeastern wins, and the Phoenix have put together an offensively consistent stretch marked with a couple great defensive performances.
Max Mackinnon is the CAA Rookie of the Week after his 20 points in the frenzied comeback against NU. The Australian import has hit for at least 12 points in six of Elon's last eight outings, including no fewer than 14 over the duration of the Phoenix win streak.
The #CAAHoops Rookie of the Week Max Mackinnon shot 68% (15-for-22) on the week in a pair of wins on @elonmbasketball's trip to the Northeast pic.twitter.com/h7gLB9tT22

— CAA Basketball (@CAABasketball) February 6, 2023
Mackinnon hit for 13 points in one of Elon's near-misses leading up to this streak, an 80-71 loss to North Carolina A&T when these teams last met. The Phoenix built a 46-39 halftime lead over the Aggies before Marcus Watson led a second-half rally.
A&T welcomes Elon to Club Corbett looking for both the regular-season sweep, and to snap a two-game losing skid.
Tied with Elon for the third-longest winning streak in the CAA heading into the week is Monmouth, which ripped off three straight in impressive fashion over North Carolina A&T, Delaware and a thrilling 69-67 win over Drexel. Jack Collins' transition 3-pointer proved pivotal in the Hawks' victory against a good Dragons bunch.
LOUD NOISES @jackcollins_13_ 🥶 pic.twitter.com/1JpmQ3JJLx

— Monmouth Basketball (@MonmouthBBall) February 4, 2023
"We've been talking about out-teaming people, because some people might have more talent than our team, or they might be older. But if we out-team them, we can beat any team," Monmouth coach King Rice said following Saturday's win.
The Hawks test that cohesiveness when the CAA's hottest squad, Hofstra, visits the Shore.
The Pride open the week tied with Charleston atop the conference and boasting the head-to-head against the Cougars. And while Aaron Estrada's lived up to the standard he set last year as the CAA Player of the Year, last week demonstrated how much more there is to Hofstra than the league's most prolific scorer.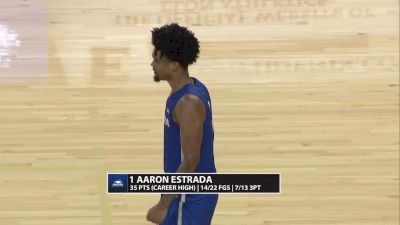 With Estarda sidelined last Saturday against Stony Brook, Tyler Thomas continued his recent stretch of standout performances with 29 points and 11 rebounds. Thomas has scored at least 20 points in 4-of-5, and no fewer than 17 points throughout the Pride's five-game winning streak.
Going for 49 combined points against Towson and Stony Brook garnered Thomas CAA Player of the Week.
𝐖𝐡𝐚𝐭 𝐀 𝐖𝐞𝐞𝐤❗

2️⃣0️⃣ points vs. Towson
Season-high 2️⃣9️⃣ points and career-high 1️⃣1️⃣ rebounds vs. Stony Brook

And don't forget 𝐓𝐖𝐎 enormous wins for #Hofstra!

Congrats on @CAABasketball Player of the Week honors, @Tyler_the_T!#PrideOfLI pic.twitter.com/E2zOWSRB0G

— Hofstra Men's Basketball (@HofstraMBB) February 6, 2023
Estrada is expected back in the lineup for the coming week when the Pride hit the road to face Northeastern before Saturday's showdown against suddenly surging Monmouth. Estrada went for 12 points, six rebounds and four assists in Hofstra's last meeting with Monmouth, a 77-57 Pride win, while Thomas and Warren Williams each scored 18 points.
Last Thursday, Towson and Drexel came out on opposite ends of two decisions crucial to the CAA standings: The Tigers dropped a heartbreaker to Hofstra, a contest in which the winner moved into a tie for first place commensurate with league-leading Charleston losing.
And Charleston did indeed fall, losing 70-69 to Drexel behind 19 points and 12 boards from Amari Williams and a pair of game-winning free throws from Justin Moore.
The win improved Drexel to 6-0 at home in conference play, a mark the Dragons look to extend when Towson comes calling. The Tigers won a close one, 64-58, when these teams faced more than a month ago. Nicolas Timberlake scored 24 points to set the pace, and the consistently tough Towson defense limited Williams on the interior.
Towson needs a similar performance in its effort to stay in striking distance of the CAA regular-season crown. The Tigers' closing stretch sends it on the road to face Charleston and UNCW in consecutive games, and going into the final week with three league losses might be necessary for Pat Skerry's squad to have a shot at a second straight conference championship.