CAA Men's Basketball Final Standings Predictions & Player of the Year Pick
CAA Men's Basketball Final Standings Predictions & Player of the Year Pick
Coming off a great 2022-23, Charleston is poised to contend for another Coastal Athletic Association title. But the Cougars have plenty of competition.
Nov 6, 2023
by Kyle Kensing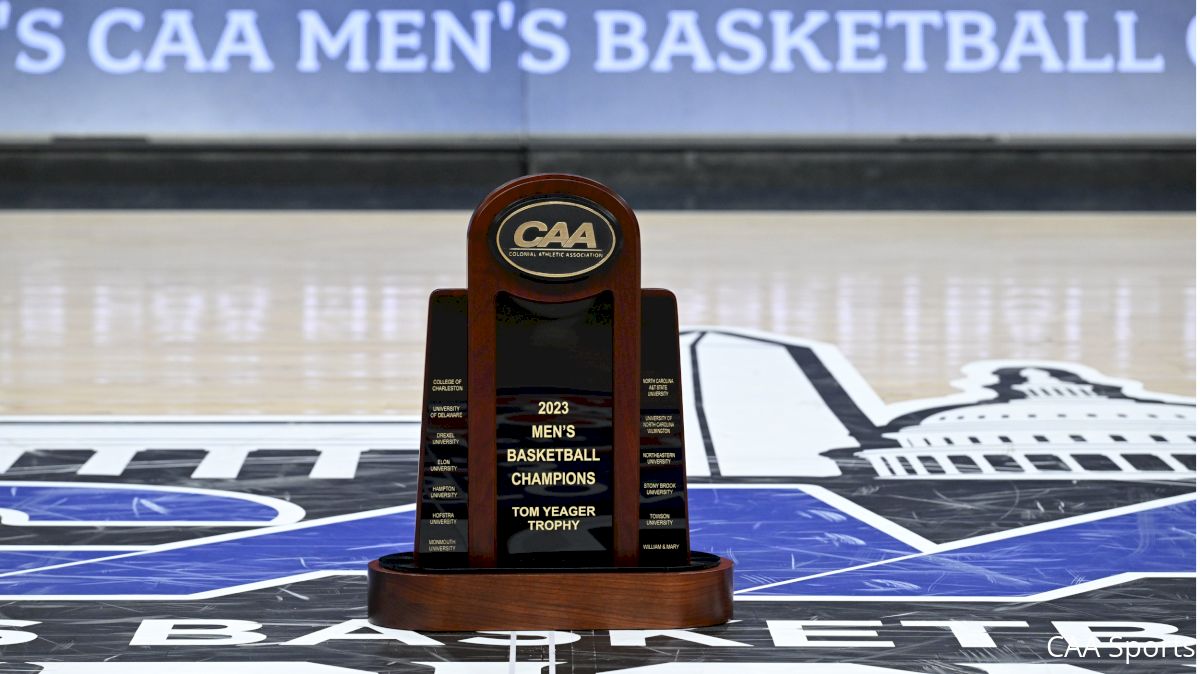 Charleston coach Pat Kelsey noted during his 2023 media day session that, while the 2023-24 campaign marks the conference's first under the new Coastal Athletic Association banner, he appreciates retention of the CAA branding.
"[CAA] has a brand, the success that our league's had over time has respect nationally," he said. "Being able to still keep those initials so when you say CAA, it still refers to the history that's been built here."
It's an illustrious history indeed, boasting names associated with March Madness lore like Brent Blizzard.
The CAA has been home to legends of the game, including David Robinson. The CAA also boasts two Final Four teams in the last 20 years, more than a number of leagues with comparable profiles.
Along with the history, the new CAA retains the competitive identity that often shapes the conference. In fact, heading into 2023-24, the CAA may be as good as it's ever been at the top, with a variety of teams that on paper look capable of winning the championship.
Player of the Year: Trazarien White, UNC Wilmington
Much like the conference championship, any number of contenders could rise up to claim Player of the Year. Drexel big man Amari Williams earned the official preseason honor, returning after twice winning CAA Defensive Player of the Year, and his offensive game is fast catching up to his dominance on the other end of the floor.
Delaware's Jyare Davis is a versatile and powerful presence who does just about everything well, and has only improved. A threat to post a double-double every time out, Davis could come away with this honor.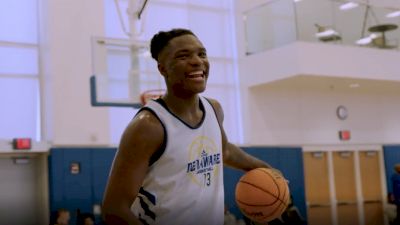 So could Towson's Charles Thompson. Or Hofstra's Tyler Thomas. Charleston duo Ante Brzovic and Reyne Smith each have Player of the Year potential. And, with an influx of talented newcomers, like Monmouth's Xander Rice, someone making their CAA debut could claim the conference's top individual prize.
Only one can stake claim to Player of the Year, however, and UNC Wilmington swingman Trazarien White is the pick. White made huge, across-the-board jumps from his debut season with the Seahawks to 2022-23, more than doubling his scoring output to 14.2 points per game. His slashing ability is unrivaled, and he's more than willing to mix it up on the interior, but an improved outside touch could be the catalyst that puts White in the 20-point per game neighborhood this season.
White's all-around game beyond his versatile scoring ability, however, sets the tone for what should be Takayo Siddle's best team since returning to UNCW — which leads into the picks for this CAA season:
1. UNC Wilmington
The 2022-23 Seahawks defied expectations, losing their top two players from the CBI Championship-winning team in a breakout 2021-22 campaign to contend for the CAA title. It'll be no surprise if UNC Wilmington competes for the championship this year, with coach Siddle welcoming back an experienced roster that checks every box in terms of title needs.
The Seahawks have potentially explosive scoring threats in Maleeck Harden-Hayes and Nick Farrar, while New Mexico transfer KJ Jenkins adds another skilled perimeter presence. Shykeim Phillips' outstanding defense and hustle give UNCW a grittiness necessary to grind through physical games, and High Point transfer Ahmard Harvey should provide the same kind of presence on the interior.
2. Charleston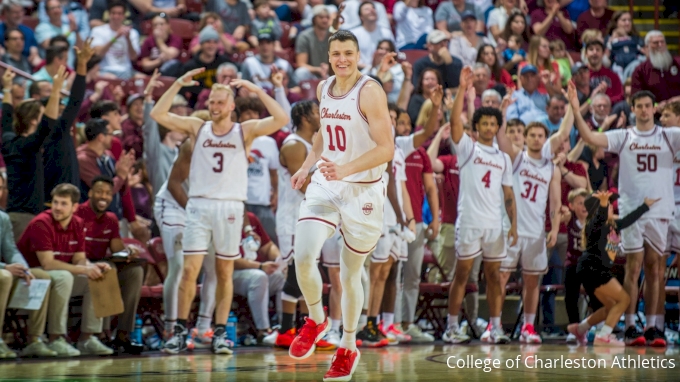 Reigning regular-season co-champion and tournament winner Charleston reloads for another run at the NCAA Tournament. The Cougars will have a target on them after last season's success, but coach Kelsey's crew is built for a repeat of 2022-23.
Brzovic and Smith set the tone among the starters, but Charleston features arguably the most intriguing collection of new additions to its roster of any team not only in the conference, but throughout the country. Stony Brook transfer Frankie Policelli showed off his all-around dynamic potential in the CAA Championship, and Div. II transfers Bryce Butler and Kobe Rodgers are potential breakout stars.
3. Hofstra
Speedy Claxton has done a remarkable job maintaining the lofty standard of his alma mater. The last milestone ahead of the Pride is an NCAA Tournament berth. Hofstra should again be right in that conversation after claiming a share of last year's regular-season CAA title, building around an outstanding backcourt of Tyler Thomas, Darlinstone Dubar and Jaquan Carlos.
Should the frontcourt round into shape quickly, Hofstra's daunting non-conference schedule provides a path to Top 25 consideration and an at-large Tournament resume — provided the Pride don't claim the automatic bid. They'll be in that hunt, though.
4. Drexel
🏀 @DrexelMBB's Amari Williams, the #CAAHoops Preseason Player of the Year, on how he started playing basketball.

We are all thankful for the growth spurt, Amari! @TheFieldOf68
SHOW LINK 🎙: https://t.co/zwXmyDpRCu pic.twitter.com/4aOWGO2Ffk

— CAA Basketball (@CAABasketball) October 19, 2023
Amari Williams deserved his designation as Preseason Player of the Year; the Drexel big man is an elite defender whose offensive repertoire has developed to include a consistent mid-ranger shot and some impressive, face-up ballhandling. A team with an NBA-caliber centerpiece like Williams is guaranteed to contend for its conference championship, and the Dragons are no exception.
Drexel also welcomes back Justin Moore, who as a freshman established himself as one of the best point guards in the league. Already demonstrating a savviness belying his age, Moore figures to be one of the top combo playmakers in the CAA. So long as Drexel gets consistent offensive contribution outside of its big two, the Dragons could emerge as the beasts the rest of the conference tries to slay.
5. Towson
The job Pat Skerry's done in his time as Towson head coach is nothing short of remarkable, which includes a 2022 regular-season CAA championship. The 2023-24 Tigers have a similar make-up to that squad, which vastly over-performed expectations on the way to the NIT, so don't be surprised to see this team as a factor in the title race.
You couldn't ask for a more perfect avatar of Towson's brand of basketball than Charles Thompson, a fearless and physical banger when he needs to be but at the same time, a silky smooth offensive weapon. Thompson leads a Towson lineup with plenty of intriguing new additions — the most intriguing of whom may be Div. II tranfser Tomiwa Sulaiman. Thompson shouted out Sulaiman as a standout among the newcomers.
Should the roster find its chemistry quickly, a run to March Madness is certainly within reach for the Tigers.
6. Delaware
Building around one of the best mid-major players in the country, Jyare Davis, Delaware is a dark horse to watch. The local product Davis is a terrific all-around difference-maker, just as capable of scoring 25 points as he is grabbing 10 rebounds or dishing out eight assists. He also can guard multiple positions around the court, giving the Blue Hens flexibility in that regard.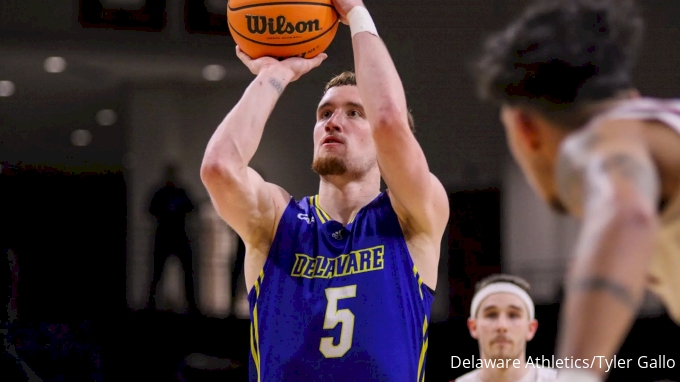 Coupled with the sharp-shooting Christian Ray, Delaware has two solid pillars for 2023-24. So long as the roster around them sees some dependable players emerge, the Blue Hens are capable of beating any other team in the CAA.
7. Monmouth
Hawks coach King Rice said definitively following his team's play-in round defeat of Hampton in last season's CAA Championship that Monmouth didn't expect finishing at the bottom to necessitate placement in the tournament's opening game again. That should be no issue in the program's second year with the CAA. The addition of Xander Rice to a young but experienced lineup provides Monmouth with the engine to drive further ahead in its second go-around in the conference.
Rice's stellar play at Bucknell made him a hot commodity in the transfer portal, but the prospect of playing for his dad and bringing a Monmouth program that has contended for the NCAA Tournament repeatedly in recent years brought him to the Shore. Along with Jack Collins, Rice gives Monmouth one of the most electrifying backcourt tandems in the CAA.
8. Stony Brook
A new-look roster built around outstanding veteran guard Tyler Stephenson-Moore makes Stony Brook a team worth keeping on your radar. The Seawolves welcome aboard transfers Andre Snoddy, an All-NEC rookie at Central Connecticut State; big man Chris Maidoh from Fairfield, who at 6-foot-10 adds to the overwhelming length Stony Brook boasts in the frontcourt; and versatile JUCO transfer Ra'Sean Frederick.
Few teams anywhere in the country can match Stony Brook's size with 7-footer Keenan Fitzmorris, 6-foot-10 Leon Nahar in his second year with the program, and the newcomer Maidoh.
9. William & Mary
A talented frontcourt lays the foundation for a William & Mary team looking to earn the first NCAA Tournament berth in program history. Gabe Dorsey was a breakthrough leader for the Tribe a season ago, and now gets to pair up with brother Caleb in 2023-24.
Paired with a healthy Noah Collier, the William & Mary rotation of forwards is versatile. In the backcourt, Providence import Matteus Case finished the 2022-23 campaign strong and brings a ton of positive momentum into his second year with the Tribe.
10. Northeastern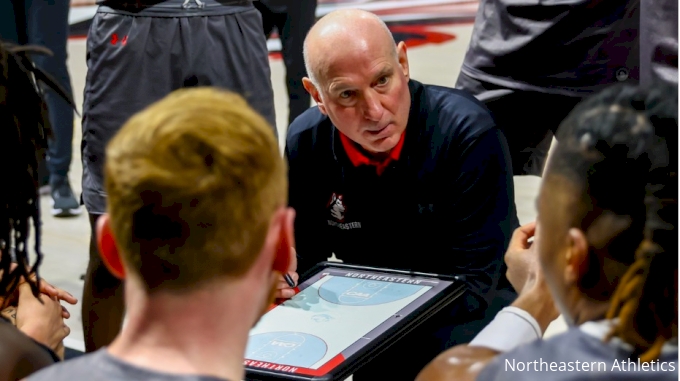 Few coaches anywhere in college basketball have a resume that lives up to Northeastern's Bill Coen. The program's all-time winningest sideline general heads into this season in the unusual place of trying to rebound from finishing near the bottom of the CAA. History suggests that Huskies will bounce back in a big way.
Stalwart leader Chris Doherty and versatile Jared Turner join UNC Wilmington transfer Joe Pridgen, who was consistent by season's end a year ago; and Masai Troutman had a promising freshman campaign. Should Harvard transfer Luka Sakota add consistent scoring pop from the perimeter, and Sacred Heart transfer Bryce Johnson build off a strong 2022-23 season with the Pioneers, Northeastern is plenty capable of defying its preseason forecast.
11. Elon
Elon has, in recent years, excelled at finishing years with a flourish. That extended to Billy Taylor's debut campaign leading the Phoenix, a year that began rocky but finished with plenty of promise.
Elon went 5-1 over a late-season stretch that included defeats of Drexel and William & Mary. The emergence of Rookie of the Year Max Mackinnon was a big part of the Phoenix's performance over the final month, and he returns to lead an Elon team that should start much stronger than it did last season. With Zac Ervin and Torrence Watson also back, the 2023-24 Phoenix have a solid foundation of top playmakers; establishing depth is what will shape how far this bunch can progress in the coming season.
12. Hampton
Hampton begins its second CAA season looking to improve from its 2022-23 finish in the play-in game. This year's Pirates feature a number of young players in key spots, but Jordan Nesbitt's return gives Hampton a strong building block. Nesbitt is one of the most potentially explosive scorers in the conference, and an exciting all-around playmaker.
The addition of Campbell transfer Joshua Lusane adds physicality on the interior, and South Carolina transfer Ja'Von Benson is an intriguing talent who gives the Pirates some needed size.
13. Campbell
The conference isn't the only thing new for Campbell in 2023-24. The Camels embark on their debut CAA campaign with an overhauled roster from a season ago, though they do return effective scoring wing Anthony Dell'Orso after a strong freshman campaign.
Campbell isn't lacking for size, featuring 6-foot-10 Alex Kotov and 7-footer Wesley Johnson. The Camels also have length along the perimeter, which could lead to some matchup problems for opponents.
14. North Carolina A&T
North Carolina A&T's placement in the preseason cellar is a reflection of the unknown. With a new head coach in Monte Ross and a host of new faces on the roster, the Aggies are mysterious. That could be a good thing in their second CAA season.
North Carolina A&T has two months to mesh in game situations before opening conference play against Campbell. Before then, they take on a challenging slate that includes 2023 NCAA Tournament participants Pitt, Virginia and Texas Southern.