2023 Women's Cancun Challenge
5 Things To Know About Creighton's Emma Ronsiek
5 Things To Know About Creighton's Emma Ronsiek
Creighton's South Dakotan standout, Emma Ronsiek, is back for another season in Omaha — and it may be the most important yet of her college career.
Nov 14, 2023
by Briar Napier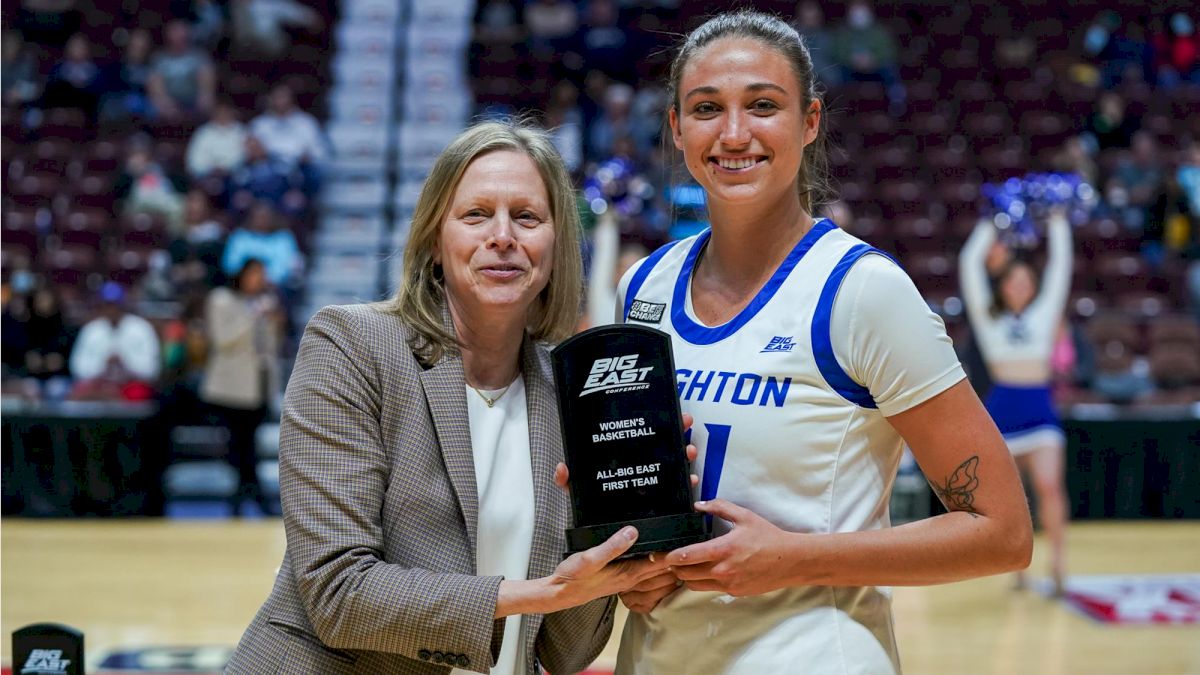 Creighton's South Dakotan standout is back for another season in Omaha — and it may be the most important yet of her college career.
Emma Ronsiek, a multi-time All-BIG EAST performer for the Bluejays' women's basketball team, is one of a double-digit number of returners back from last year for a program that has made two consecutive NCAA Tournament appearances.
One of the most consistent figures of Creighton's success over the past few seasons, Ronsiek has averaged double-digit scoring numbers per game throughout each of the past three years as she's been locked in as a starter, contributing to some of the program's biggest landmark moments along the way.
Along with the Bluejays as a whole, Ronsiek's rise has resulted in Creighton being one of the most dangerous teams in the BIG EAST. For 2023-24, her play could help take the school to even more never-before-seen heights.
Get to know the senior starter for the ranked Bluejays as BIG EAST women's basketball is streamed all season long on FloHoops:
Great Plains Roots
Hailing from an underrated state for women's basketball in South Dakota — legendary WNBA player and coach Becky Hammon, for instance, is a Rapid City native — Ronsiek was the state's Miss Basketball and Gatorade Player of the Year recipient during her senior year at O'Gorman High School in Sioux Falls.
Turning down strong in-state programs at both South Dakota and South Dakota State to opt to sign with the Bluejays, Ronsiek has delivered thus far for Creighton as she rolls along for her fourth season in Omaha. One of two South Dakotans on the roster along with redshirt freshman guard Lexi Unruh (also from Sioux Falls), Ronsiek scored 16 points with five rebounds and four assists as one of five Bluejays in double figures during Creighton's 81-55 victory over South Dakota last Friday.
She can make it 2 for 2 against home-state schools this season when South Dakota State (which won 29 games and made it to the second round of the NCAA Tournament a season ago as a No. 9 seed) visits Creighton at 6 p.m. Dec. 21 in a matchup that'll be streamed live on FloHoops, a rematch of the Bluejays' 78-69 win to open last season in Brookings.
Sioux Falls, she's HOME! #GoJays // @RonsEmma pic.twitter.com/FID88dmKyL

— Creighton Women's Basketball (@CreightonWBB) November 7, 2023
Three of the Best
Along with talented Creighton teammates Morgan Maly, Lauren Jensen, and Molly Mogensen, Ronsiek and the Bluejays won a national title in the offseason. That sentence may not make much sense at first glance, but it all starts to add up a little more when acknowledging that Creighton won a national title with those four in the 2023 USA Basketball 3X National Championship back in May in Colorado Springs, Colorado, finishing first in a 3-on-3 hoops tournament featuring 15 different college teams.
A victory over Duke in the final secured the Bluejays the trophy, but Ronsiek's summer with USA Basketball wasn't finished there; she later participated in the 2023 USA Women's AmeriCup Team Trials that same month, and though she did not make the stacked 12-player team (which featured the likes of LSU superstar Angel Reese and Tennessee standout Rickea Jackson, among others) which participated in the event in July, the fact that she was considered and noticed as one of the top players in college hoops entering the 2023-24 season was notable in and of itself.
With one technical national championship under its belt, Creighton and Ronsiek will certainly be on the hunt for more hardware this season as one of the top teams in the BIG EAST.
One to Watch(list)
The Katrina McClain Award, given to the best power forward in women's basketball, was won by a BIG EAST player last year: Villanova legend and Dallas Wings draft pick Maddy Siegrist.
Can it stay in the league for another season? Well, if you're basing that likelihood from a sheer numbers standpoint going off of the award watch list that was released last month, then yes, there's a decent chance that the Katrina McClain Award will stay in the BIG EAST.
Only one BIG EAST team has multiple players on that watch list, however, and it's Creighton by way of Maly and Ronsiek. Each player's outlook on actually winning the thing depends more on how their performances across the year go, but Ronsiek — who can shift around the floor and play multiple positions, a trait this article will touch more on in a bit — could certainly be in line for a massive amount of growth on the low block and beyond for the Bluejays after her All-BIG EAST Honorable Mention nod a season ago and a First Team selection already once earned in her career, back in her sophomore campaign in 2021-22.
It wouldn't be surprising to see Ronsiek advance onto further stages of candidacy for the Katrina McClain Award; just how far she does go remains to be seen.
This lesson brought to you by @RonsEmma 👩‍🏫#GoJays pic.twitter.com/9vAqLVJzAf

— Creighton Women's Basketball (@CreightonWBB) November 10, 2023
Anywhere and Everywhere
What makes Ronsiek such an exciting player to watch isn't just her obvious skill and production for what's been (and what still should be this year) a very, very good Creighton team. Her value as one of women's college basketball's best examples of a "positionless" star is priceless, making her a critical cog in a Bluejays squad that started the year ranked No. 22 in the Associated Press Top 25 poll.
Officially listed on Creighton's roster as a forward — the four spot, as her listing on the Katrina McClain Award Watch List shows, is probably her most true spot on the floor — Ronsiek often starts games as an undersized 6-foot-1 center in the scorebook but can flip games in the Bluejays' favor in a variety of ways both inside and outside of the paint.
Finishing in the top three on the team last season in points, assists and rebounds, Ronsiek's outbursts on the stat sheet in 2022-23 included multiple games in which she sunk five 3-pointers, a do-it-all 10-point, seven-assist, six-rebound, three-steal game against Georgetown in conference play (in just 23 minutes, no less) and a clutch 22-point night against Seton Hall in the BIG EAST Tournament quarterfinals where she made the game-tying 3 to force overtime in a narrow Creighton victory.
The Bluejays' Swiss Army knife keeps teams guessing, and as one of the most efficient teams in the country last season, they likely wouldn't have gotten to that point had it not been for Ronsiek keeping opposing defenses on their toes night in and night out.
Returning Firepower
What makes Creighton so dangerous in both BIG EAST play and beyond as the 2023-24 season gets rolling? It's mainly because there is just so much experience back in the mix following two consecutive NCAA Tournament appearances — 10 players, in fact, including the Bluejays' top four scorers from last season.
Ronsiek is one of those four, averaging 13.2 points per night as she was integral in ensuring that Creighton reached an all-time high of 13th in the AP Poll and a best-ever No. 6 seed in the NCAA tourney. The ending of the Bluejays' historic campaign, however, was a bit sour; just a year after stunning the country by making it to the Elite Eight in 2022 as a No. 10 seed — upsetting Colorado, Iowa, and Iowa State along the way — Creighton's 2023 tournament run was axed immediately when itself was upset by No. 11 Mississippi State in the first round. It's early on in the 2023-24 slate, but Creighton (and Ronsiek) looks primed for another surge up the national pecking order following cut-and-dry opening-week victories over North Dakota State and South Dakota, with Ronsiek averaging 15.5 points per game to date thus far.
A few tricky nonconference games await, such as the 2023 Women's Cancun Challenge games against Georgia Tech and Michigan State (streamed live on FloHoops) later this month plus visits to rival Nebraska and dangerous mid-majors like Wyoming and Drake. But if Ronsiek and Creighton's core, which most nights consists of her, Maly, and Jensen, keeps the gas pedal down, an unbeaten nonconference schedule is definitely in play — and it could be the springboard both toward giving powerhouse UConn a serious challenge for BIG EAST supremacy and another March Madness that'll be etched in Bluejay women's hoops history.
HOW!?!? @RonsEmma #GoJays pic.twitter.com/J4Z6rsD8DD

— Creighton Women's Basketball (@CreightonWBB) November 10, 2023