2023 Women's Gulf Coast Showcase
Here's The Iowa Women's Basketball Schedule At The 2023 Gulf Coast Showdown
Here's The Iowa Women's Basketball Schedule At The 2023 Gulf Coast Showdown
Caitlin Clark and the Iowa Hawkeyes WBB team are playing at the Women's Gulf Coast Showdown from Nov. 24-26. Here's the Iowa Basketball schedule.
Nov 16, 2023
by Joe Harrington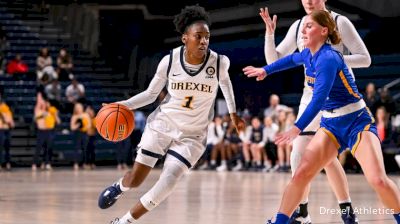 Superstar Caitlin Clark and the Iowa Women's Basketball team travel to Estero, Florida just after Thanksgiving for the 2023 Gulf Coast Showcase.
The Hawkeyes, who are ranked No.2 in the AP poll on Nov. 13, are the heavy favorites in the eight-team tournament. Iowa is the highest-ranked program in the field followed by North Carolina, who on Nov. 13 was ranked No. 17.
Of course Iowa is led by Clark, who became the program's all-time leading scorer in a 94-53 win over Northern Iowa. Clark, a senior, scored 43 points in a win over Virginia Tech already this season and and through three games is averaging 32 points.
Here's when Iowa plays at the Gulf Coast Showcase.
Iowa Women's Basketball Schedule At The Women's Gulf Coast Showcase
Iowa will play Purdue Fort Wayne on 7:30 p.m. EST on Nov. 24. The game, and all Gulf Coast Showcase games are streaming on FloHoops and the FloSport app.
If the Hawkeyes win, they will play the winner of Florida Gulf Coast and Delaware on Nov. 25. If they lose on Nov. 24, they will play the loser of the FGCU and Delaware game.
Here's the bracket: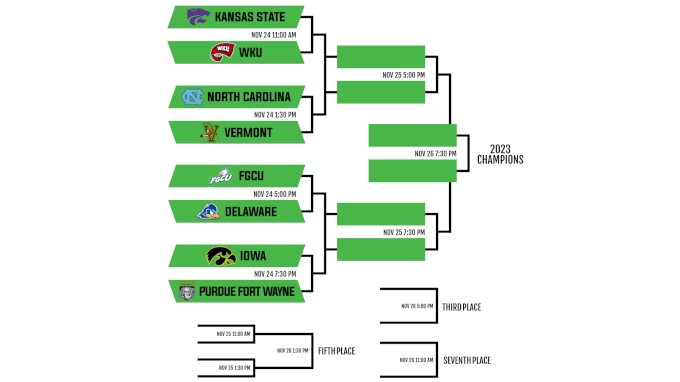 The Women's Gulf Coast Showcase Teams
The teams are:
No. 2 Iowa
Kansas State
Western Kentucky
No. 17 North Carolina
Vermont
Florida Gulf Coast
Delaware
Purdue Fort Wayne
When Is The Women's Gulf Coast Showcase?
Action begins Nov. 24 and continues until Nov. 26.
How To Watch The Women's Gulf Coast Showcase
All the games will stream live on FloHoops and the FloSports app. Breaking news, highlights and replays will also be available on both platforms.
Caitlin Clark Career Points For Iowa Women's Basketball
Clark entered the 2023-2024 season with 2,717 points. She became Iowa's all-time leading score in the third game of the season.
Clark had a historic NCAA Tournament, where she led the Hawkeyes to the National Championship Game. She was the first player to have back-to-back 40-point games in NCAA Tournament history. She finished with 191 points and 60 assists in the tournament.
When Is The 2024 NCAA Women's Basketball Tournament?
Selection Sunday for the NCAA Women's Tournament is March 17, 2024. The First Four will tip off March 20, with the Round of 64 beginning March 22.
Watch NCAA Women's Basketball On FloHoops
The NCAA Women's Basketball is streaming live on FloHoops and the FloSports app. The BIG EAST Digital Network is also on FloHoops and the FloSports app.
FloHoops Archived Footage
Video footage from all events will be archived and stored in a video library for FloHoops subscribers to watch for the duration of their subscription.
Join the College Basketball Conversation on FloHoops Social