2023 Men's Gulf Coast Showcase
Mid-Major Power Rankings: Big West Teams Make Big-Time Statements
Mid-Major Power Rankings: Big West Teams Make Big-Time Statements
UC Irvine and Long Beach State scored wins over power-conference opponents that continued the strong start mid-major programs have had in 2023-24.
Nov 20, 2023
by Kyle Kensing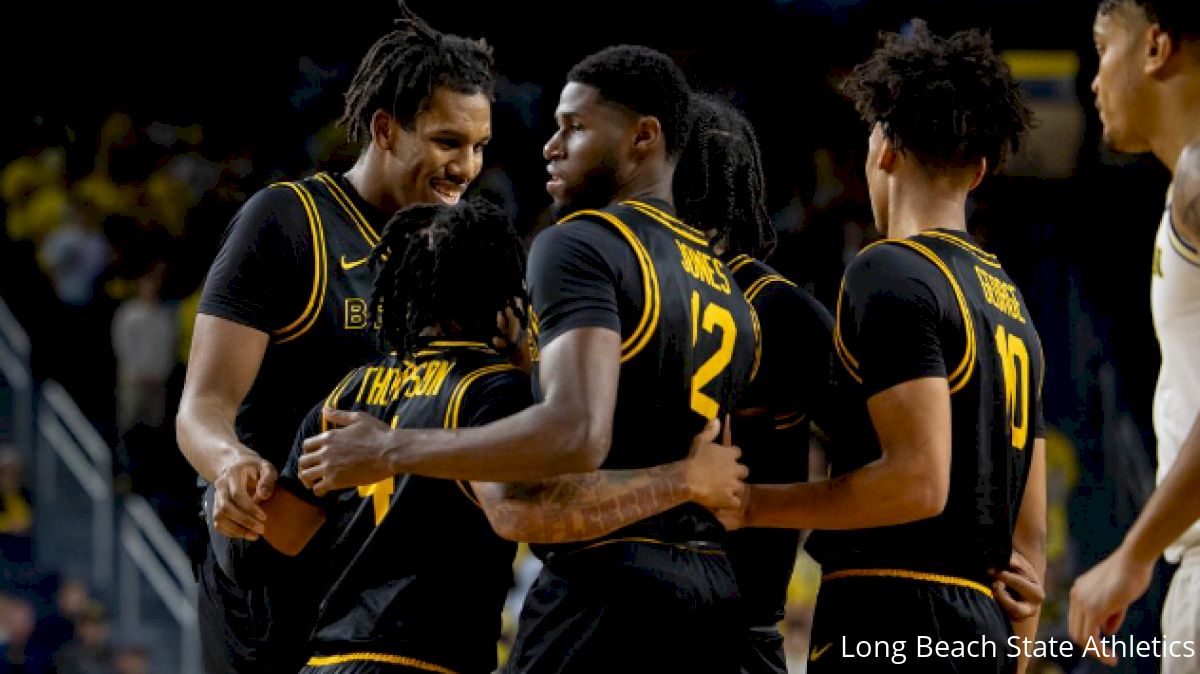 One week after James Madison went into Michigan State and scored a major victory for mid-major basketball, Long Beach State did the same against the Spartans' Big Ten Conference rival Michigan.
The Beach's 94-86 win on Friday in Ann Arbor behind 35 points from Marcus Tsohonis highlighted an especially tough opening schedule. Long Beach State, which prides itself on taking on a challenging non-conference slate, visited Michigan as part of a season-opening, four-game road swing.
The Beach also visited 2023 national runner-up and FloHoops.com Mid-Major Power Rankings honoree San Diego State, an upstart University of Portland team, and DePaul before invading Big Ten Country. LBSU continues its tour here on FloHoops, taking on a strong Gulf Coast Showcase field that includes Hofstra, Iona and Louisiana.
Though not yet cracking the Power Rankings, Long Beach State is a team to watch this season in the Big West Conference — and it can expect competition from UC Irvine.
UC Irvine rebounded from a season-opening loss to San Jose State, a program on a meteoric rise under coach Tim Miles, with a 70-60 defeat of then-No. 16-ranked USC.
The Anteaters led much of the way and endured a late Trojans rally, scoring the game's final seven points. Sandwiched between blowouts of New Mexico State and Div. III Occidental College, the signature win at USC highlights UC Irvine's 3-1 start before it plays in the Ball Dawgs Classic.
The Las Vegas-area Thanksgiving week tournament, streaming on FloHoops, features New Mexico, an Indiana State team looking to build off of last season's run to the College Basketball Invitational, Toledo and more.
UC Irvine's win at USC wasn't the only mid-major conference statement made at the expense of a Top 25-ranked opponent. UNC Greensboro, playing its second Southeastern Conference opponent in as many games, handled No. 14-Arkansas on Friday, 78-72.
Keyshaun Langley's 24 points, five assists and four steals paced the Spartans to another signature win for the Southern Conference. SoCon basketball has been consistently strong in recent years, and UNCG's win at Arkansas signals another potentially outstanding year in the league.
Up next for the Spartans: The Baha Mar Hoops Nassau Championship.
This year's edition of the tournament, which UNC Wilmington used as a springboard into a successful 2022-23 last year, features Delaware, Ohio University and MTSU among others.
Another upset of the AP Top 25 this week, and one with a significant impact on the Power Rankings, saw Bryant stun Florida Atlantic. The Bulldogs' 61-52 defeat of the No. 10-ranked and 2023 Final Four-participant Owls on Saturday capped a week in which coach Phil Martelli Jr. had the interim label removed as he took over for Jared Grasso just before the start of the season.
Nov. 20 Top 15
1. Gonzaga
Tipping off the Maui Invitational against second-ranked Purdue and reigning National Player of the Year Zach Edey promises to test Gonzaga's national championship mettle early in the season.
This year's Maui Invitational field ranks among the best the prestigious event has ever hosted. Never mind ranking No. 1 in the FloHoops Mid-Major Power Rankings; should the Bulldogs run the table in paradise, they'll possibly take over No. 1 in the AP Top 25.
2. James Madison
James Madison did not suffer a hangover from its whirlwind opening week, though the Dukes got all they could handle from a tough Radford team.
JMU is headed to the Cancun Challenge in Mexico, beginning Tuesday with a matchup against Southern Illinois of the Missouri Valley.
3. Memphis
Much like Gonzaga at the Maui Invitational, Memphis can establish itself as a front-runner for the 2024 Final Four with a championship showing at the Battle 4 Atlantis. The Tigers join a field that includes their opening-round opponents, Michigan; Arkansas; and Stanford.
Coincidentally, Michigan, Arkansas and Stanford all dropped matchups with mid-major opponents through the season's first two weeks.
4. Nevada
A high-powered offense has Nevada off to a 4-0 start ahead of a week-long break. The Wolf Pack put up 108 points in a rout of Portland their last time out before a Nov. 29 meeting with Montana kicks off a stretch that includes matchups with a good Loyola Marymount team and Drake.
5. San Diego State
Coming off its loss at BYU, San Diego State rallied impressively with its championship showing at the Main Event in Las Vegas. Jaedon LeDee was dominant down the stretch in the Aztecs' title-game win over Washington in overtime, and Lamont Butler's on-ball defense from the perimeter was a catalyst for fast-break opportunities.
Following a blowout win over Saint Mary's, the Aztecs looked every bit the Final Four team they were a season ago.
6. Liberty
Successfully navigating the Myrtle Beach Invitational, culminating in an impressive, championship-game win over Vermont, keeps Liberty undefeated. The Flames look like they'll be the team to beat in their first year in Conference USA.
7. Princeton
Last year's run to the Sweet 16 was no fluke. Princeton has made that abundantly clear through the early going of its 2023-24 schedule, boasting wins at Rutgers, Hofstra and Duquesne through the first two weeks.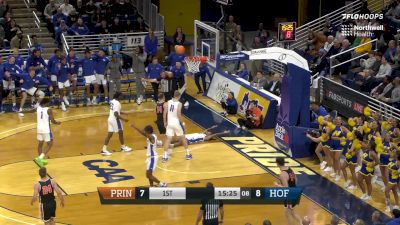 Unlock this video, live events, and more with a subscription!
Get Started
Already a subscriber? Log In
Caden Pierce is averaging 12 rebounds per game after his double-double vs. Monmouth, and has scored 20-plus points twice in Princeton's first four games. When it comes to offense, though, the Tigers are balanced and can score in a variety of ways. That's part of what makes this team so dangerous.
8. FAU
The loss to Bryant certainly came as a surprise for an FAU team ranked in the top 10 of the AP Poll. Whether that's indicative of longer-term flaws that could plague the Owls in their pursuit of a Final Four encore, or a needed wake-up call with a tough schedule still awaiting them should be evident right away.
FAU opens the ESPN Events Invitational on Thanksgiving Day against Butler, then a potential semifinal matchup with Texas A&M awaits.
9. UNC Wilmington
The undefeated Seahawks put their uptempo offense to the test in the Fort Meyers Invitational, opening with an always-tough Murray State bunch. UNC Wilmington spends the entire Thanksgiving week in Florida, following its MTE with a true road game against Florida Gulf Coast.
It'll be Dec. 10 before the Seahawks come home to Trask Coliseum, one week after a trip to Rupp Arena to take on Kentucky.
10. Colorado State
Colorado State is off to a 4-0 start and mostly gone untested in blowout wins. The Rams are thriving offensively, scoring especially effectively on the interior with a 2-point field-goal percentage better than 65.
Isaiah Stevens' distribution and Joel Scott's shooting are powering this exciting, uptempo attack.
11. Santa Clara
A win over neighbor Stanford, a team with legitimate NCAA Tournament aspirations this season, signals that Herb Sendek's Broncos should be a team to watch in the West Coast Conference this season.
Carlos Marshall is poised to be the next Santa Clara standout, succeeding Golden State Warriors first-round draft pick Brandin Podziemski. He'll get his opportunity to shine on Thanksgiving weekend with a trip to the Emerald Coast Classic, where the Broncos face Oregon.
12. Drake
Drake's undefeated start continued with an impressive opening-round win over Oakland in the Cayman Islands Classic.
Unlock this video, live events, and more with a subscription!
Get Started
Already a subscriber? Log In
Tucker DeVries is a well-established star, but the Bulldogs have a bevy of capable scoring threats on the perimeter, as Kevin Overton's performance to kick off the Cayman Islands Classic demonstrated.
Drake faces Stephen F. Austin in the Classic's semifinals for a matchup of KenPom.com Top 100 teams and one of the most intriguing mid-major meetings of the early season thus far.
13. Duquesne
Duquesne drops slightly this week, but the Dukes remain in the Top 15 of the Power Rankings following a loss to Princeton. A rout of Metro Atlantic Athletic Conference favorite Rider was a good way to bounce back, and Duquesne will get its opportunity to plant a flag in power-conference territory when it faces Nebraska on Thanksgiving week.
14. Western Carolina
A surprise newcomer to the Power Rankings, Western Carolina is off to a perfect start with road wins at Notre Dame and over an MTSU team that handed Stephen F. Austin its lone blemish thus far.
The Catamounts also knocked off a McNeese team that made noise in opening week with its rout of VCU. Catamounts playmaker Vonterius Woolbright is someone to keep an eye on as the season progresses, capable of scoring and setting the table for teammates.
15. UC Irvine
Perennial Big West contender UC Irvine scored an NCAA Tournament in 2019, and the 2023-24 Anteaters looked capable of doing the same with their defeat of USC.
UC Irvine is a tenacious defensive team that has enough capable 3-point shooting to keep opponents off-balance.