2018 Hoop City Classic
Top 5 2019 Recruiting Stories, Featuring Stewart, North Carolina & Memphis
Top 5 2019 Recruiting Stories, Featuring Stewart, North Carolina & Memphis
Some of the biggest recruiting dominoes have already fallen, but there's plenty left to make 2019 intriguing on the recruiting landscape.
Dec 27, 2018
by Adam Zagoria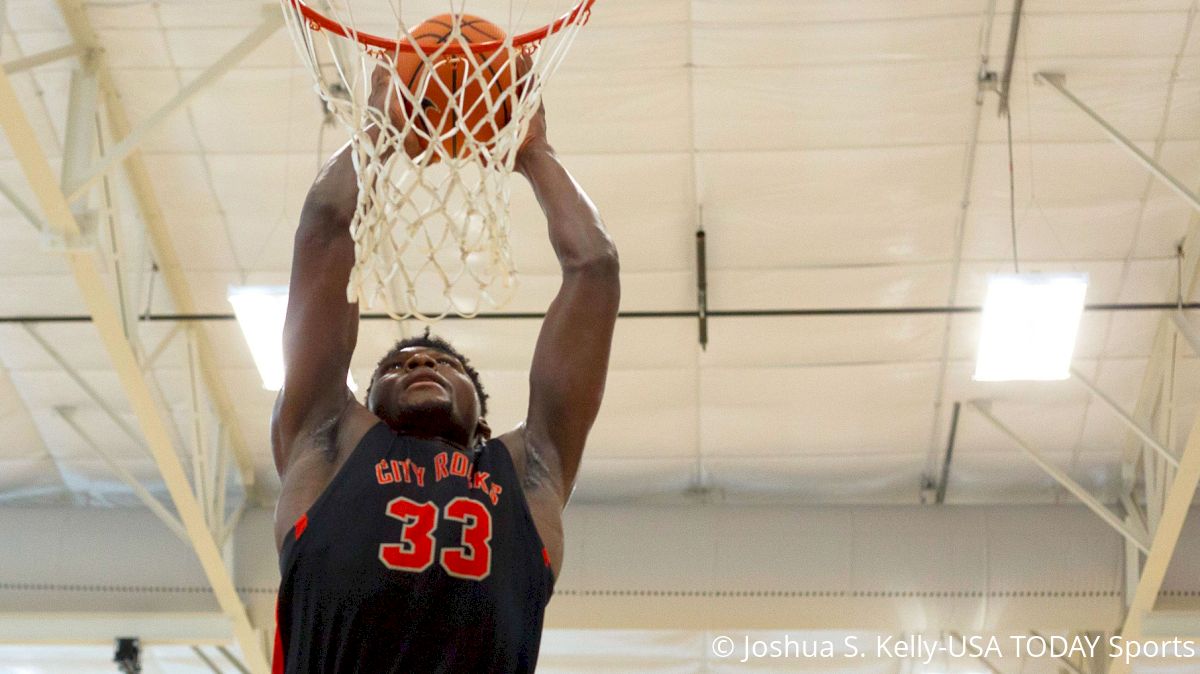 As the calendar flips to 2019, here are the top five college basketball recruiting storylines heading into the New Year.
1. What will Isaiah Stewart decide and when will he decide it?
The 6-foot-9 forward from La Lumiere (IN) and the Albany City Rocks is expected to decide "soon," a source said, but when isn't exactly clear.
Stewart has kept folks guessing for weeks now, with Duke, Washington, Michigan State, and Syracuse among those involved. Following the bread crumbs in Stewart's recruitment has become a thing of its own.
"I feel like Isaiah will be the next one that commits to The Brotherhood," Duke commit Wendell Moore said, according to USA Today's Jason Jordan. "I'd say it's close with us and a couple other schools, but at the end of the day I think we'll end up getting him."
Stewart is now in a group text message with Duke commits Moore, Vernon Carey Jr., and Boogie Ellis.
"Yes, we are," Stewart told Krysten Peek of Rivals. "We're trying to get Isaiah. Right now I feel it's 50/50 between Duke and Michigan State."
Carey said he would love to play with another big.
"I feel like in USA we played well off each other for the U17 World Cup, so hopefully we could just bring that to college," Carey said.
Isaiah Stewart bout to be rockin' out on Team USA ?? @Dreamville_33 @usabasketball pic.twitter.com/2b5hpxeNAb

— Overtime (@overtime) June 22, 2018
2. Will Cole Anthony pick North Carolina in the New Year?
The 6-foot-3 Anthony out of Oak Hill Academy (VA) is the top uncommitted player in the Class of 2019, and is down to six schools in North Carolina, Oregon, Wake Forest, Georgetown, Miami, and Notre Dame.
Anthony said at the City of Palms Classic that he's working on setting up an official visit to Wake Forest, which would be his fourth following trips to North Carolina, Oregon, Notre Dame, and Georgetown.
Still, North Carolina is considered the clubhouse favorite with one source saying they would be "shocked" if Anthony didn't end up a Tar Heel.
UNC head man Roy Williams was at City of Palms and Anthony says he appreciates the love North Carolina has shown both on his official and during several unofficial visits to campus.
"I mean, it's cool," he said. "At this point I guess you could call it babysitting, but it's nice. I'm happy whenever I see a college coach here."
It's the New York connection as @The_ColeAnthony dishes to @kxng_alpha @FloHoops pic.twitter.com/7QlFrCty0l

— Adam Zagoria (@AdamZagoria) December 18, 2018
3. Where will Jaden McDaniels ultimately land?
The 6-foot-10 McDaniels is reminiscent of a young Kevin Durant and is currently projected as the No. 3 pick in the 2020 NBA Draft per ESPN.com.
Kentucky, Texas, Washington, San Diego State, and UCLA comprise his final five, but McDaniels won't decide until after his season ends at Federal Way (WA).
Having missed out on bigs James Wiseman, Vernon Carey, and (likely) Isaiah Stewart, Kentucky would desperately love to add McDaniels during the late period. Wildcats head man John Calipari and assistant Tony Barbee were courtside at Barclays Center earlier this month when McDaniels and Federal Way destroyed a Lawrence Woodmere Academy (N.Y.) team led by Louisville commit Aidan Igiehon.
"It's just nice to see [Calipari] come and support me because they're recruiting me," McDaniels told ZAGSBLOG. "It's a real big program, so having him there is something big to me. I have a good relationship with Kenny Payne, he's a real good dude. I just talk to him on the regular. They always check in with me and see how I'm doing and stuff like that."
John Calipari and Kenny Payne Courtside for Jaden McDaniels pic.twitter.com/ElFcorDTwL

— Adam Zagoria (@AdamZagoria) December 9, 2018
4. Where will big man Kofi Cockburn end up?
The 6-foot-11, 290-pound New York transplant is down to a final five of Illinois, Kansas, Pittsburgh, St. John's, and UConn. He takes his next official visit to Illinois from Friday-Sunday, and is working on setting up dates to Kansas, Pittsburgh, and St. John's.
More of a traditional low-post big man than a modern-day 7-footer who spreads the court, Cockburn broke down all five schools for FloHoops.com at last week's City of Palms.
"I just want to go to a school where I'm going to be comfortable, be pushed and get better," he said. "And win a national championship."
2019 big man @kxng_alpha breaks down @UConnMBB and @StJohnsBBall at @CityOfPalmsBKB pic.twitter.com/JoE1u8HMWx

— Adam Zagoria (@AdamZagoria) December 18, 2018
5. Is Memphis in good shape for Trendon Watford?
The 6-foot-9 forward from Mountain Brook (AL) is down to a Final Four of Alabama, Indiana, LSU, and Memphis.
For what it's worth, his Crystal Ball on 247Sports.com is currently at 67 percent in favor of Memphis, and the way he's recently talked about the Tigers it's not hard to understand why. Memphis head coach Penny Hardaway and assistant Mike Miller will fly out to the Hoop City Classic in South Dakota on Saturday to see Watford.
You can catch Watford right here on FloHoops at the 2018 Hoop City Classic starting Dec. 29.
---
Adam Zagoria is a Basketball Insider who runs ZAGSBLOG.com and contributes to The New York Times. Follow Adam on Twitter.