2023 Northeastern vs Hofstra - Men's
CAA Men's Player Of The Year: Aaron Estrada Poised To Repeat
CAA Men's Player Of The Year: Aaron Estrada Poised To Repeat
Hofstra star Aaron Estrada could double-up as CAA Player of the Year, but he has competition.
Feb 24, 2023
by Kyle Kensing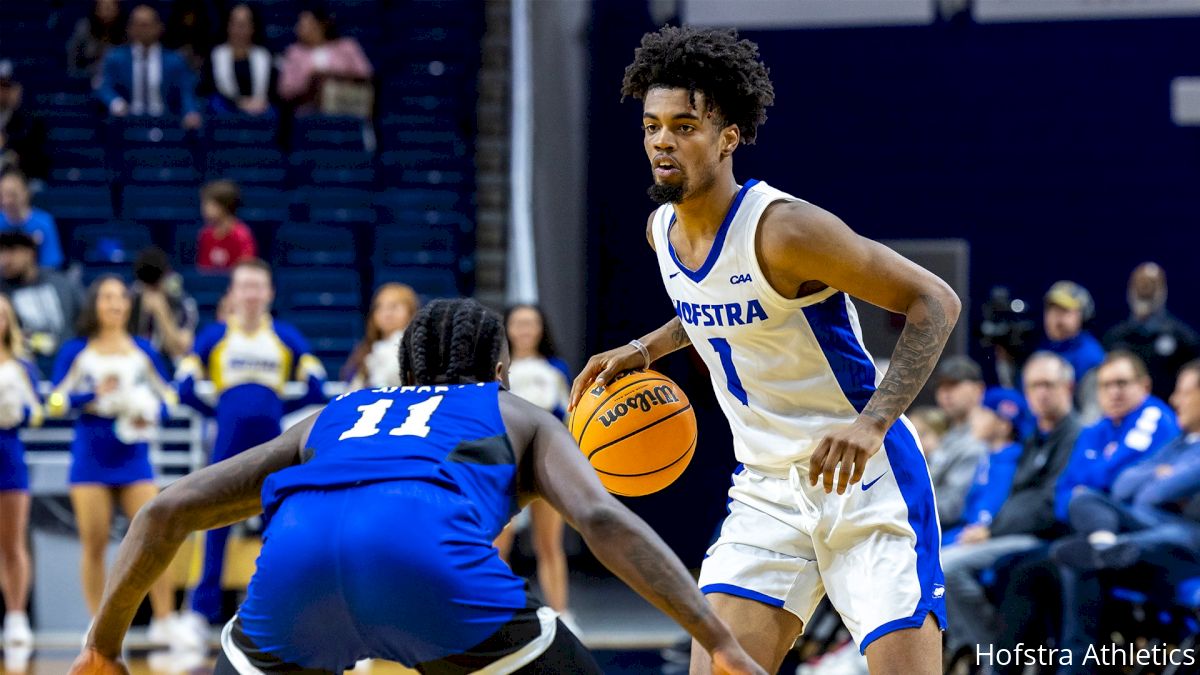 Heading into the final week of the 2022-23 Colonial Athletic Association season, the conference's 2021-22 Player of the Year sits in pole position to repeat.
Past Hofstra standouts Charles Jenkins and Justin Wright-Foreman completed the double-dip 2009-10/2010-11 and 2017-18/2018-19, and Aaron Estrada is in line to be a third product of the Pride to do so. The guard claimed the Colonial's top individual honor a year ago with a well-rounded scoring repertoire that produced a conference-best 18.5 points per game.
In his final season, Estrada has been even more productive, once again setting the CAA pace with 20.5 points per game.
Estrada's uptick in scoring is a byproduct of improved 3-point shooting, boasting more made attempts from beyond the arc in 26 appearances this season with 59 than the 58 in hit in 30 games a season ago. His percentage also climbed dramatically from 33.3 in 2021-22 to 37.1 this year.
An 8-of-15 performance from long range at Elon resulted in the CAA's highest-scoring individual effort of the campaign.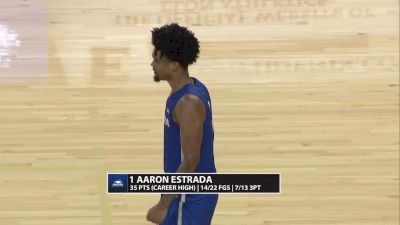 "We're in a day and age when most of the time, you don't have your top guys returning," Hofstra coach "Speedy" Claxton said. "So for Aaron to come back after the year he had last year says a lot about how he feels about us, how he feels about the offense, and our player development – which is another thing: He probably feels like we got him better and I think that has a lot to do that."
The proof of Estrada's development is evident in the numbers. But development doesn't come without commitment, and Claxton praised the veteran guard Estrada for dedicating himself to adding to an already-impressive offensive skillset.
"He's our leader. He's our hardest working player by far, and he's the one who kind of started the culture," Claxton said. "Everyone sees how hard he works ... and sees how much Aaron has developed."
Claxton said that motivation extends to Tyler Thomas, Estrada's backcourt mate and another player in the conversation for CAA Player of the Year.
"I think the only person who can beat [Estrada] out [for CAA Player of the Year] is Tyler," Claxton said with a laugh.
HUGE win for Hofstra over Iona tonight.

Tyler Thomas with this game-winner and 26 points.

pic.twitter.com/JAzwYG87mw

— Mid-Major Madness (@mid_madness) November 12, 2022
Having two viable candidates for the league's premier individual honor is a luxury not lost on Claxton, a two-time Player of the Year winner in his own right.
Claxton doubled up in 1997-98 and 1999-00 during Hofstra's tenure in the America East.
"It made my job a lot easier," the coach said of his terrific tandem. "Our last game against Stony Brook, Aaron actually didn't have a good game and we went away from him. We gave Tyler the ball and put him in situations to kinda be the No. 1 guy, and that's the luxury to have two really, really, good, dynamic guards. If one's having an off-night, you can just more just sort of focus on the other one and run the offense through them."
Depth is indeed a luxury for any coach to have, but for Pat Kelsey's College of Charleston team, it's more than a luxury: The coach called it the Cougars' identity.
Boasting the kind of all-around playmaking that has defined Charleston in its pursuit of the CAA championship may not lend to players winning individual awards, but there are Cougars with strong cases for such consideration in 2022-23.
Dalton Bolon, College of Charleston
Realistically, one could present a strong case for any number of Charleston representatives as Player of the Year candidates. Six different Cougars have won CAA Player of the Week this season, and eight have led the team in scoring at least once.
From versatile big man Ante Brzovic, a multifaceted scorer with a knack for scoring at critical junctures and a solid rebounder; to Jaylon Scott, the defensive dynamo whose playmaking on that side of the ball becomes instant offense; Reyne Smith, one of the nation's best players in terms of advanced offensive metrics; and Pat Robinson III, the reserve heater who can provide a boost in any phase, CofC boasts one of the deepest rotations in all of college basketball.
But as the veteran heart of Charleston's landmark campaign, Dalton Bolon stands out as the program's leading candidate for Player of the Year. He paces the potent Cougars offense at 12.8 points per game, but his contributions are evident across all elements of the game from rebounding to defense to ball movement.
Jameer Nelson Jr., Delaware
Slowed by a midseason injury, Jameer Nelson Jr. is closing out on one of the hottest tears of any player in the country. Nelson posted consecutive games of 39 and 30 points against UNC Wilmington and North Carolina A&T, both Delaware wins, and is fractions-of-a-point behind Aaron Estrada for the CAA's regular-season scoring lead at 20.4 points per game.
Jameer Nelson Jr. was getting busy last night.

30 PTS
7 REB
2 AST
2 STL
1 BLK@DelawareMBB pic.twitter.com/mtKRHWvfz9

— SLAM University (@slam_university) February 24, 2023
The dynamic Nelson ranks 11th among all Div. I players in possession percentage per KenPom.com metrics, meaning the Blue Hens offense flows heavily through his playmaking. He's adept at getting to the free-throw line and equally effective scoring on his foul shots, a nice weapon to have along with his 3-point shooting and slashing.
Nelson is also one of the best on-the-ball defenders in the Colonial, averaging steals on 4.2 of all opponent possessions.
Nicolas Timberlake, Towson
In Towson's hard-fought loss Feb. 23 at Charleston, Nicolas Timberlake nearly willed the Tigers to victory entirely through his own scoring prowess. Timberlake sank 6-of-11 from 3-point range en route to 34 points, marking his third straight game of at least 26 in Towson's closing stretch, and his third outing scoring at least 31 in the month of February.
Nicolas Timberlake ARE YOU KIDDING ME?!#GohTigers | #UnitedWeRoar | #SCTop10 @ESPNAssignDesk pic.twitter.com/EhKmeWV5Uj

— Towson Men's Basketball (@Towson_MBB) February 24, 2023
Timberlake's averaging a shade below 18 points per game ahead of the Tigers' regular-season finale. With six games in which he's made at least five 3-pointers, Timberlake is the kind of explosive scorer who can get hot enough to single-handedly shoot his team into an NCAA Tournament berth.
Amari Williams, Drexel
Amari Williams is the perfect centerpiece for a team that plays the style Drexel employs. A rangy presence in the paint, Williams ranks among the nation's best shot-blockers with well over 2 per game. He also uses his length to alter dozens more shots.
Williams is also a standout rebounder, averaging almost nine a contest. He's produced nine points/boards double-doubles on the season, including a 19-point, 12-rebound effort in the Dragons' defeat of Charleston. Drexel's record when Williams records a double-double is 7-2.