2023 BIG EAST WBB Tournament First Round
BIG EAST Women's Basketball Tournament Preview: Storylines To Watch
BIG EAST Women's Basketball Tournament Preview: Storylines To Watch
For those playing in the BIG EAST Women's Basketball Tournament, which begins this week, its arrival signifies the end of many things.
Mar 2, 2023
by Briar Napier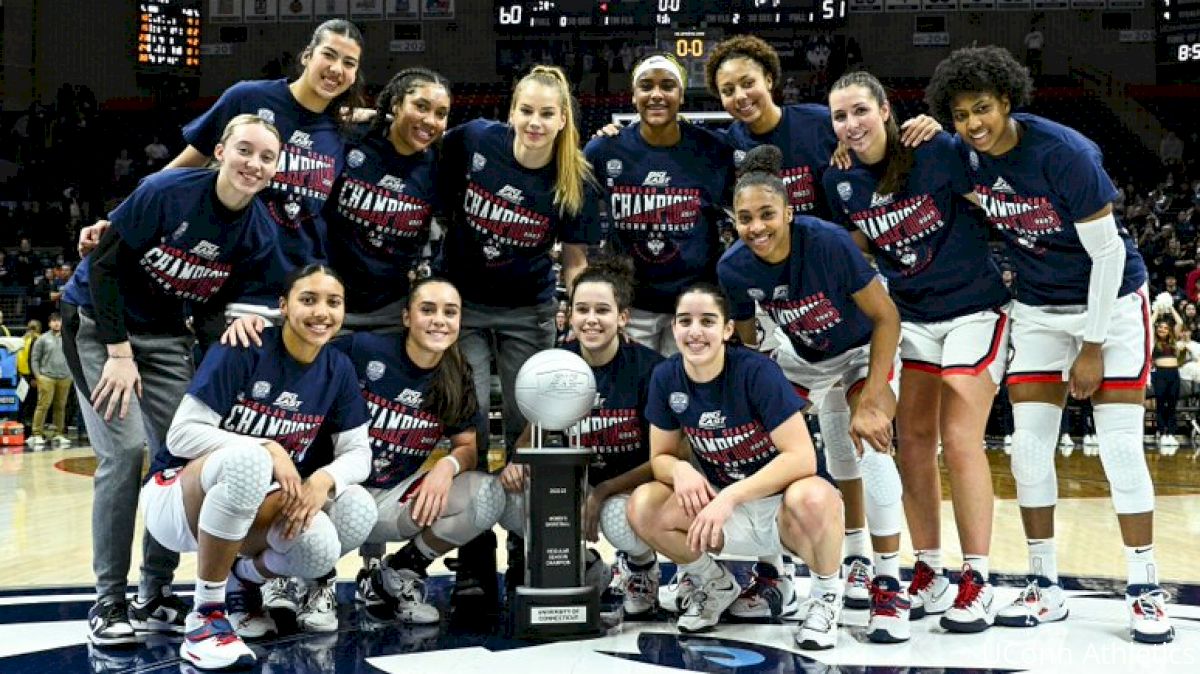 Bring on March. Bring on madness.
For those playing in the BIG EAST Women's Basketball Tournament, which begins this week, its arrival signifies the end of many things - final days of careers, final chances to build postseason resumes, final opportunities to turn around a season.
It's the last chance for so many teams for so many different reasons – and it's what helps make the event a special occasion every year. But it also helps most of the field that the favorite may not be as easy to predict as in prior years, either, only adding to the pandemonium of what's to come.
The action gets underway this weekend.
Postseason college basketball finally has arrived. The brackets are filled, and the matchups are booked. There's little left to do, other than wait for the party to get started.
Here's a look at some of the top storylines to keep an eye on during the BIG EAST Tournament, which will be held at the Mohegan Sun Arena in Uncasville, Connecticut, from March 3-6.
All first-round matchups will be streamed live on FloHoops.
UConn Is The Familiar Favorite … Or Is It?
Dating back to when its first stint in the BIG EAST ended 10 years ago (when Notre Dame beat the Huskies in a classic tourney championship game in 2013), UConn hasn't missed out on a conference tournament title since.
UConn won the American Athletic Conference tourney every year coach Geno Auriemma's team was in the league from 2014-2020 and won both BIG EAST Tournament titles since it rejoined the conference for the 2020-2021 season.
But this also probably is the most vulnerable UConn has been since that 2013 season – and winning the BIG EAST double again is far from a guarantee.
keep fighting, keep fighting, keep fighting pic.twitter.com/kpCl7zWo8A

— UConn Women's Basketball (@UConnWBB) February 26, 2023
The Huskies are in the rare position of having lost multiple games in conference play (to Marquette and St. John's, both in February), as the roster has been wrecked by brutal injury luck all season, losing All-American Paige Bueckers to a torn ACL before she even played a game, and the likes of Azzi Fudd, Caroline Ducharme and Dorka Juhasz (among others) for long periods of the year.
Of course, blue-blood UConn has more depth and overall talent at its disposal than any other team in the conference, which is why it was able to snag its ninth straight regular-season league title and still find itself in the No. 1 seed conversation for the upcoming NCAA Tournament with a 26-5 overall record.
But considering that the top tier of the BIG EAST is as elite as it has been in several years, and that a pair of teams have proven the Huskies are indeed mortal, UConn will have its hands full for the entire conference tournament.
Can Maddy Siegrist Close BIG EAST Career With League Title?
Already the current or prior holder of pretty much every major individual scoring mark and league award in the BIG EAST, Villanova redshirt senior Maddy Siegrist will go down in Wildcats lore as probably their greatest player.
She's an offensive dynamo unlike anyone else in college basketball today. She's the national leader in scoring at 29 points per game entering the conference tournament.
Maddy. Siegrist.

Read more about #SuperSiegrist in this @PhillyInquirer four-part series: https://t.co/IAFhJDO5CF

— Villanova WBB (@novawbb) February 28, 2023
One thing that has eluded her (and 'Nova) in her illustrious career, however, is a conference championship, either earned in the regular season or the tournament.
This year's BIG EAST Tournament makes for the final opportunity for Siegrist to accomplish that milestone during her collegiate playing career.
The No. 11-ranked Wildcats are the tourney's No. 2 seed and come in as winners of 17 of their past 19 games, with both losses coming to UConn.
Count the bucket and the foul 😤 @20sMaddy pic.twitter.com/cYvXeZtrS1

— Villanova WBB (@novawbb) February 28, 2023
Siegrist, the league's newly crowned all-time leading scorer at 2,712 career points following 'Nova's win Monday night over Seton Hall, hasn't posted fewer than 21 points in a game all season. She has the Wildcats set up for a potentially historic run in the NCAA Tournament that includes possibly being a host site for the first weekend of games.
A BIG EAST tourney title (for just the third time in school history and first time since 2003) would be the cherry on top of it all and give Siegrist and her supporting cast a team accolade in a season that's been dominated by her picking up individual ones.
St. John's, Marquette Fighting For March Madness Lives
With UConn, Villanova and Creighton all seemingly locked into ESPN "bracketologist" Charlie Creme's latest projected NCAA Tournament field, that leaves the BIG EAST with two bubble teams whose March Madness hopes hang in the balance at the conference tournament.
Ironically, it's also the only two conference teams that have beaten UConn this year.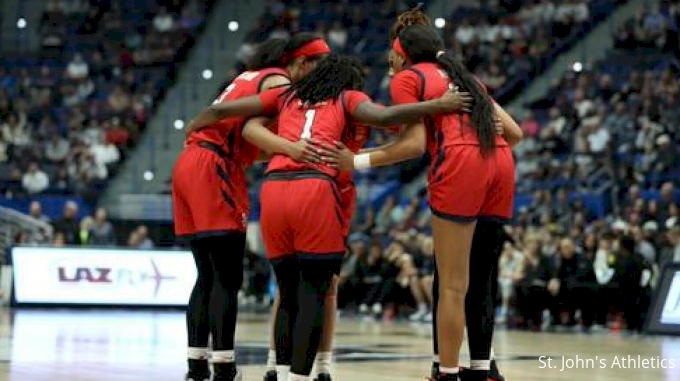 Both St. John's and Marquette are in Creme's "Last Four In" category, and the BIG EAST tourney will give each a final chance to bolster their resumes for the selection committee. And, to make matters even more intense, they play each other in the quarterfinal matchup of the No. 4 and No. 5 seeds.
Something's got to give when they square off Saturday, as there is a real possibility that the winner will earn an at-large berth to March Madness, while the loser misses out, but it's worth taking a look beforehand at what each program has accomplished up to this point in the season.
At St. John's, the Red Storm rocketed out to a 13-0 start and were one of the country's last remaining unbeaten teams – then, a 6-7 mark in the 13 games that followed happened.
A three-game winning streak entering the league tournament included the shock win over the Huskies and has rejuvenated St. John's' postseason aspirations, with a win over the Golden Eagles possibly sealing the deal to get the Red Storm back to the Big Dance for the first time since 2016.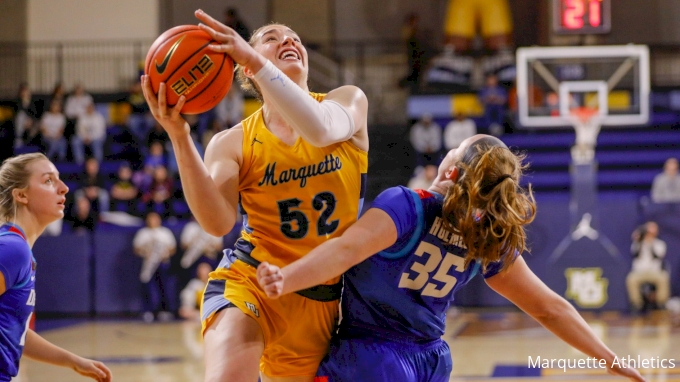 Marquette, meanwhile, has been more of a late bloomer this year, winning nine of its past 11 going into the tournament, including its own win over UConn on Feb. 8. Marquette handed the Huskies their first back-to-back defeats (after losing to No. 1 South Carolina the game before) since 1993.
Expect madness when these two bubble teams clash – it's March, after all.
Who Is Bound To Play Spoiler?
Strange but true: a No. 6 seed has advanced to the semifinals of the BIG EAST Tournament in four of the past five seasons.
It happened again last year, when Seton Hall held that lucky number. As luck would have it, the Pirates are back in that spot this time around.
The tricky part with Seton Hall for this tourney, however, is that when it made its postseason run during the 2021-2022 campaign, it entered the event white hot, having won eight of its prior nine games.
Entering this year's event, the Pirates don't appear to have that magic yet, having lost five of their past seven, with a 3-7 record on the year against the BIG EAST's top five seeds.
But what about DePaul as the seventh seed?
The Blue Demons' injury-wrecked lineup has had a bit of a topsy-turvy season and enters the tournament under .500 (15-16), but it also does have the league's best stat-sheet stuffer in super sophomore Aneesah Morrow (25.7 points, 12 rebounds, 2.7 steals, 1.3 blocks) and a fast-paced offense (77.1 points per game) that can catch teams off-guard if they aren't careful.
Fifth triple of the night for Aneesah 👌👌👌👌👌 pic.twitter.com/1DUR9jGMSY

— DePaul Women's Basketball (@DePaulWBBHoops) February 28, 2023
Just ask top seeds UConn and Villanova, which each barely survived with three-point wins against DePaul in this past week alone.
Elsewhere, No. 8 Butler has won four of its past five games, No. 9 Georgetown has the most league wins it has had in four years and 10th-seeded Providence has an away win over Creighton on its resume, further emphasizing that no game in the BIG EAST Tournament truly will be a gimme and that there's bound to be a few unexpected results in the mix.