CAA Championship: Colonial Newcomers Experience Ups & Downs In Year 1
CAA Championship: Colonial Newcomers Experience Ups & Downs In Year 1
CAA newcomers Hampton, Monmouth, North Carolina A&T and Stony Brook faced growing pains in 2022-23, but have bright futures ahead of them.
Mar 6, 2023
by Kyle Kensing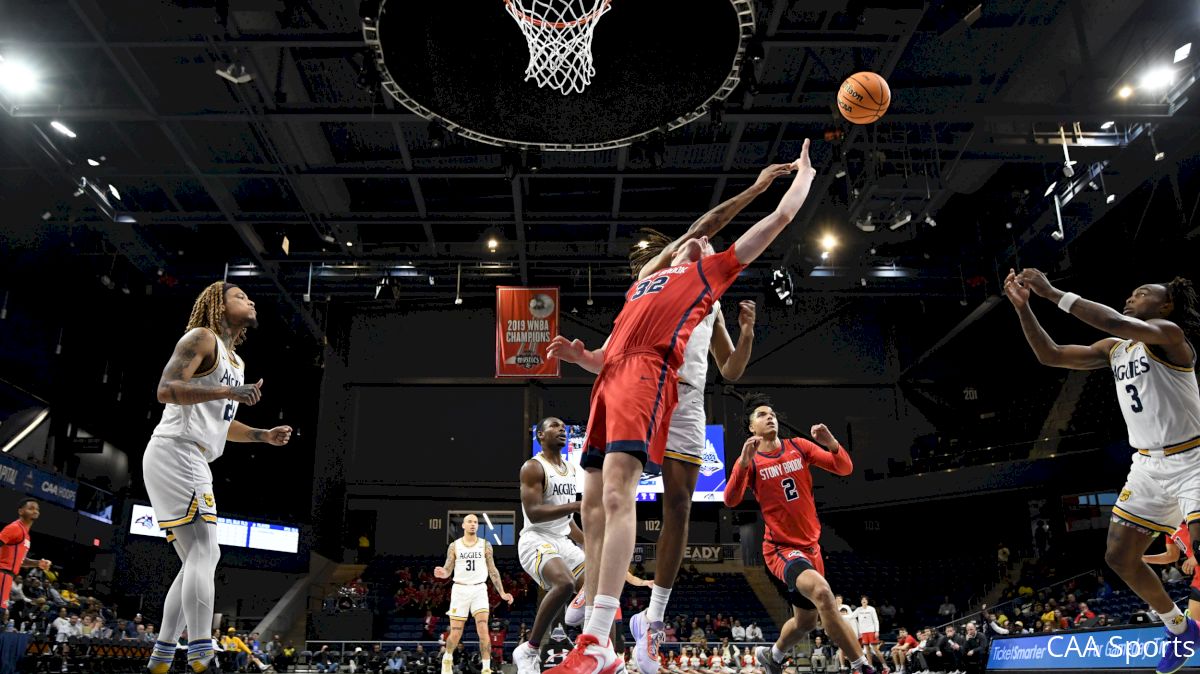 Basketball is a contact sport, but has its limitations. Geno Ford explained why that's probably for the best.
"You look out there," he said following his Stony Brook Seawolves' Colonial Athletic Association Championship quarterfinal with College of Charleston, "And luckily, it wasn't a UFC battle."
Hoopers may have been nicknamed "cagers" in the sport's early days because of the chicken-wire fencing often separating the audience from the floor, but that's typically the only parallel one might draw between basketball and mixed martial-arts.
Still, with the stakes of an NCAA Tournament bid on the line and the aggressive nature of Charleston's 74-52 win over Stony Brook, one could understand comparing box-outs and screens with armbars and elbow strikes. And Ford wasn't alone in his assessment of the hard-hitting nature of CAA basketball.
A common refrain among Ford and the other three head coaches of the Colonial's newcomer programs in the 2022-23 season — Hampton's "Buck" Joyner Jr., Monmouth's King Rice and North Carolina A&T interim coach Phillip Shumpert — was some inflection of the word "physical."
"It was a definite different level of style and physicality," said Joyner, the 12-year leader at Hampton.
In his tenure with the Pirates, Joyner coached the program to two Mid-Eastern Athletic Conference regular-season titles and three NCAA Tournament appearances.
HU had a cup of coffee in the Big South before moving to the CAA this academic year. The Pirates won at least eight conference games in 3-of-4 Big South seasons; they finished the '22-'23 campaign 5-13 and 12th-of-13 in the CAA.
"When we were in the MEAC and then the Big South, you'd play CAA teams but maybe once or twice a year," Joyner said. "To play 12 different ones throughout the season – this league is very physical. They have a lot of size."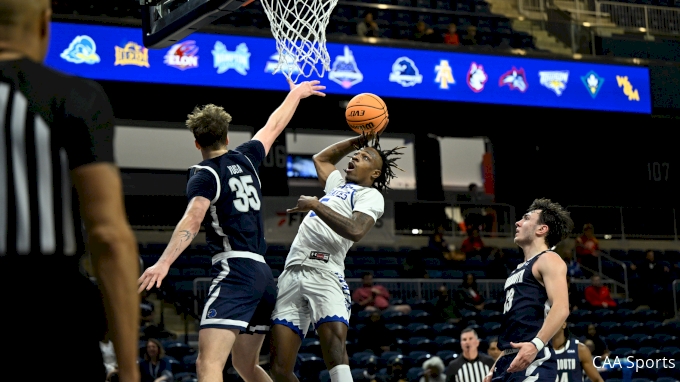 North Carolina A&T followed a similar trajectory, moving from the MEAC to the Big South then ultimately, the CAA.
The sentiment Shumpert expressed was, unsurprisingly, the same as Joyner's.
"In the MEAC and the Big South, it wasn't as physical. This conference right here is physical," he said. "You've got big, big guards; one-through-five is big."
That combination of physicality and size led to some growing pains and some lumps taken for all four of the newcomers. None finished any higher than seventh in the conference, with 3-of-4 occupying seeds 10, 12 and 13 in the CAA Championship.
Friday's No. 12 vs. No. 13 play-in game pit the teams of two coaches who have otherwise experienced plenty of success in their careers head-to-head, with Joyner's Pirates facing Rice's Monmouth Hawks.
Following Monmouth's 100-64 win over Hampton, Rice noted, "I've won a lot." And, indeed, he was wrapping up his third campaign with more than 20 wins just a year ago.
One year prior to that, in the COVID-shortened 2020-21 campaign, Monmouth claimed its third Metro Atlantic Athletic Conference regular-season title of Rice's tenure.
So, to finish at the bottom of the league standings in its first run through the Colonial was a severe departure from the norm at Monmouth.
"I don't like being in this game," Rice said of the play-in. "I told my team this morning, 'This is the last time we'll be in this game.' No disrespect to anyone else; this is not OK with me.
"But this is where we are right now," he added.
Beating Hampton landing Monmouth in the 2nd Round, but it was a short stay. Drexel jumped on the Hawks early, thanks in no small part to a player who embodies the adjectives big and physical better than anyone, Amari Williams.
Only one among the newcomers advanced past Saturday's 2nd Round into Sunday's quarterfinals: Stony Brook.
The Seawolves closed a fascinating first CAA season falling to a College of Charleston team that Ford touted as having "Sweet 16 or Elite Eight" potential. It was an unfortunately fitting conclusion, giving the way the campaign unfolded.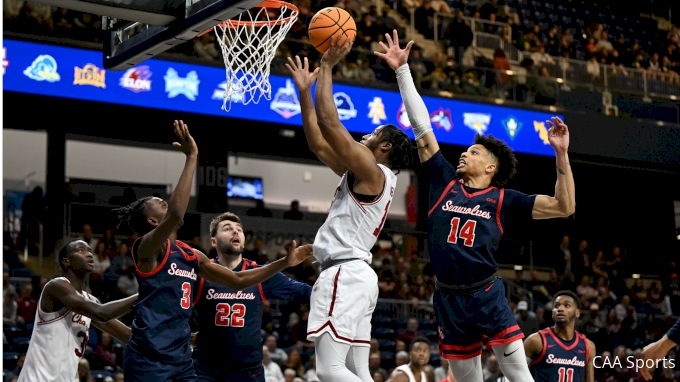 "We had a winning record against teams seeded 5-and-down," Ford said. "We were 0-for against the teams in the top four [Hofstra, Charleston, Towson and UNC Wilmington]. We had a one-possession loss to Hofstra in there that we could have won and kind of gave away at the end of the game, but most of them were 10-pointers."
"We weren't terribly far off, but there was a gap," he added. "It was not easy. You sign up to play in one league and go to a league where the guys are bigger, faster stronger.
To be as competitive as the Seawolves were at times — due both to the "enormous" jump in competition Ford cited in moving from America East, and Stony Brook's bevy of injuries throughout 2022-23 — suggests that the growing pains won't last long, however.
Stony Brook ends its first CAA season with reason for optimism. The Year 1 Seawolves put a stamp on CAA history, thanks to Frankie Policelli's performance in the 2nd Round win over North Carolina A&T.
That victory to advance Stony Brook to the quarterfinals also met one of Ford's stated goals for the season, to be last standing among the new quartet.
And SBU isn't alone in its hope to compete with the upper echelon of the league sooner than later.
Both Hampton and North Carolina A&T occupy fertile recruiting ground, with Virginia's Tidewater region and the Tar Heel State both home to some of the nation's best high-school basketball.
And, indeed, the recruiting trail is going to be central to the progress for all four programs.
"We're going to have to get some players to meet to the measure of this league in size, and just in basketball ability and IQ," Joyner said.
Rice expressed similar belief for Monmouth, which is situated a stone's throw from the prospect-rich recruiting hotbeds of Philadelphia and north New Jersey/metropolitan New York.
"We're going to continue to try and put the right kids in Monmouth uniforms so we can have more success," Rice said.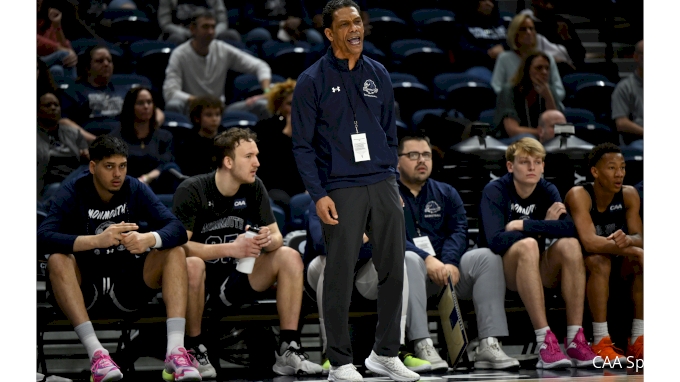 Rice's recruiting pitch won't be hurt by the trials of the uncharacteristically down season. In fact, it might help.
The coach described the embrace for Hawks hoops throughout the campaign, both from administration and fans. The support he detailed that was shown to the program in hard times can only leave one imagining how feverish the atmosphere around Monmouth basketball can be when it's contending for CAA championships.
"My athletic director, Jeff Stapleton…has been right with me every day. Our [university] president [Patrick Leahy] sits front row," Rice said. "At the end of the [regular season] we were having 2-3,000 people [at MU's home venue, OceanFirst Bank Center] when we haven't won many games. Well, that's Monmouth basketball right there."
Each of the four newcomer programs absorbed their shares of proverbial punches through this first year, but all look prepared to get off the mat stronger from the experience.