2023 CAA CHAMPIONSHIP - Men's
CAA Men's Basketball Tournament 2023 Schedule, Bracket
CAA Men's Basketball Tournament 2023 Schedule, Bracket
CAA Men's Basketball Tournament begins on March 3 and features Hofstra Basketball and College of Charleston Basketball as the top seeds in Washington D.C.
Feb 28, 2023
by Joe Harrington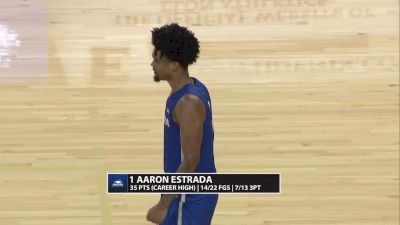 The Colonial Athletic Association holds its conference tournament this week as 13 teams head to Washington D.C. to play for the automatic bid to the NCAA Tournament that begins on March 14 with the First Four in Dayton, Ohio.
It's been a strong year for CAA Basketball as College of Charleston, the No. 2 seed in the conference tournament, spent several weeks in the AP top 25 and at one point two CAA teams, CofC and UNC Wilmington, had the nation's two longest winning streaks. Meanwhile Hofstra, coached by former NBA star Speedy Claxton, received the league's No. 1 seed because of it's win over Charleston this season.
Hofstra also has Aaron Estrada, who is poised to win CAA Player of the Year for the second straight season.
Charleston and Hofstra tied for the league's regular season title by going 16-2 in conference play, but Hofstra enters the tournament as the league's No. 1 seed.
Here's what to know about this Week's schedule.
Subscribe To FloHoops To Watch The CAA Men's Basketball Tournament
Mid-Major Notebook: Road To The Final Four Begins Now
CofC Basketball: Pat Robinson III Is Charleston's Spark Plug
When Is The CAA Men's Basketball Tournament?
The Men's tournament begins at 2 p.m. ET Friday, March 3 and ends at 7 p.m. ET Tuesday, March 7 at the Entertainment & Arts Arena in Washington D.C.
The Women's Tournament is from Wednesday, March 8 to Sunday, March 12 on the campus of Towson University.
CAA Basketball Tournament Bracket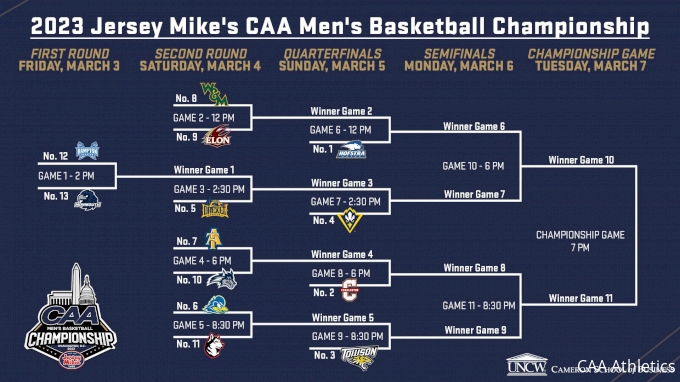 When Does Hofstra Basketball Play In The CAA Tournament?
The Pride play noon ET Sunday against the winner of Saturday's William & Mary-Elon game. A win could set up a possible game with UNC Wilmington, if the Seahawks get by either Drexel, Hampton or Monmouth at 2:30 p.m. ET Sunday.
When Does College Of Charleston Basketball Play In The CAA Tournament?
The Cougars will play 6 p.m. ET Sunday against the winner of the N.C. A&T and Stony Brook game. If CofC wins, they play the winner of the Towson vs. Delaware or Northeastern game at 8:30 p.m. ET Monday.
How Many CAA Basketball Teams Will Make The 2023 NCAA Tournament?
Outside the automatic bid, the chances of a CAA team receiving an at-large bid are not great. The CAA is traditionally a one-bid league, but if ever there was a year the conference could send multiple teams, this would be it.
Hoftsra and Charleston both had tremendous seasons, with the Cougars going 28-3 and the Pride 23-8. Four teams in the conference, Wilmington and Towson being the other two, won at least 20 games this season. Charleston and Hofstra are also ranked in the top 100 at Kenpom.com
Are There Any Ranked Teams Playing In The CAA Basketball Tournament?
Charleston was ranked for much of January and still received votes in the AP top 25 in the last poll of February.
Where Are The CAA Basketball Teams Ranked At Kenpom.com?
The college basketball metric site run by Ken Pomeroy has become one of the key ranking sites used by the NCAA selection committee and college basketball writers nationally. Here are the five highest ranked teams in CAA Basketball:
67 Charleston
91 Hofstra
137 Towson
169 UNC Wilmington
201 Drexel
How To Watch The CAA Basketball Tournament On FloHoops And FloSports
The CAA Basketball Tournament's first three rounds are live on FloHoops and FloSports. CAA Basketball has streamed on FloSports all season and will stream games Friday through Sunday.
CBS Sports Network will stream the semifinals and championship game.
Subscribe To FloHoops And FloSports For More Basketball
Click here to subscribe to FloHoops and FloSports.
A subscription unlocks the following:
Live events
Event replays
Original films and shows
Training and technique videos
Event results
Team and athlete rankings
Breaking news
Limited ads on videos
Subscribers can watch up to 12 streams in total on one or many devices connected to the same WiFi. For example, you can have one stream up on your iPhone, one on your Roku, and another on your laptop.